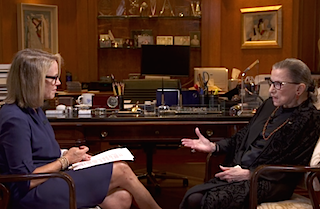 Supreme Court Justice Ruth Bader Ginsberg became an even bigger hero on the left last month when she delivered a scathing dissent to the 5-4 decision in favor of Hobby Lobby, which is now exempt from providing certain types of birth control to its employees based on its founder's religious beliefs. This week, she sat down for an extended interview with Yahoo News' Katie Couric to explain why she found the decision so damaging.
"Contraceptive protection is something that every woman must have access to in order to control her own destiny," Ginsburg told Couric. While she said she "respects the belief" of the Hobby Lobby owners, she added, "they have no constitutional right to force that belief on the hundreds and hundreds of women who work them who don't share that belief."
"Do you believe that the five male justices truly understood the ramifications of their decision?" Couric asked later in the interview of the men who made up the majority.
"I would have to say no," Ginsburg replied after a pause. "But, justices continue to think, and can change. So I'm ever hopeful that if the Court has a blind spot today, its eyes can be opened tomorrow." Asked if she believes those five justices had a blind spot when it came to Hobby Lobby, Ginsburg said, "Yes."
Watch video below, via Yahoo:
During the interview, Ginsburg also addressed her relatively recent "rock star" status, with websites popping up like the Notorious R.B.G. Tumblr. "She has created a wonderful thing with Notorious R.B.G.," Ginsburg said of the site's founder. "I will admit I had to be told by my law clerks, what's this 'Notorious.' And they explained that to me."
Watch video below, via Yahoo:
[h/t Raw Story]
[Photo via screengrab]
— —
>> Follow Matt Wilstein (@TheMattWilstein) on Twitter
Have a tip we should know? tips@mediaite.com