Joe Scarborough and NRO's Jim Geraghty Feud on Twitter: 'You're Not Being Honest'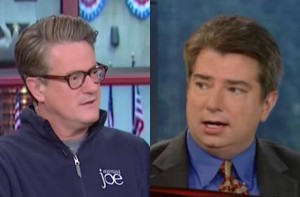 National Review's Jim Geraghty and MSNBC's Joe Scarborough got into a heated argument on Twitter Monday over whether or not Scarborough was a hypocrite when it came to criticizing Donald Trump.
Geraghty got things rolling by criticizing Scarborough in his "Morning Jolt" for his most recent column calling Trump critics out of touch and accusing them of denigrating Trump supporters. This was particularly ironic, Geraghty points out, since Scarborough himself wrote a column harshly criticizing Trump only a month ago.
"One month later, and Joe Scarborough is a lot madder at conservative critics of Trump than the candidate himself – even though the arguments mirror the ones the MSNBC host made back at the end of February," Geraghty argues. "See, when Scarborough denounces Trump for sounding like a 'Dixiecrat from the 1950s' or 'running on bigotry,' it's different."
Probably not helping things was that Scarborough's column called out by name Geraghty's colleague Kevin Williamson as one of those elitist Trump haters.  "The white American underclass is in thrall to a vicious, selfish culture whose main products are misery and used heroin needles," Williamson wrote in March. "Donald Trump's speeches make them feel good. So does OxyContin."
When Geraghty tweeted out his column, it earned the attention of Scarborough's brother, a Donald Trump supporter.
Wow! @jimgeraghty spinning against @JoeNBC big time. Guess he's clueless that Joe was defending supporters not Trump https://t.co/7VGuXG5koD

— George Scarborough (@GeoScarborough) April 4, 2016
@GeoScarborough @JoeNBC "spinning" aka, "quoting"

— jimgeraghty (@jimgeraghty) April 4, 2016
After that, Joe weighed in and the argument began in earnest.
.@JoeNBC, 2/29: Trump's Duke remarks are "disqualifying!"

Today: Trump's critics are "arrogant and unmoored"!https://t.co/OoN151kgF5

— jimgeraghty (@jimgeraghty) April 4, 2016
You know my column is about attacks vs. supporters of Trump. You're just not being honest. Very Trumpian of you. https://t.co/TaDm3f1TYO

— Joe Scarborough (@JoeNBC) April 4, 2016
.@JoeNBC You said on 2/29 Trump disqualified himself. Do you think Trump supporters are backing a man unqualified for the presidency?

— jimgeraghty (@jimgeraghty) April 4, 2016
.@JoeNBC Don't get mad at me for quoting you. Get mad at yourself for saying it and writing it in the first place.

— jimgeraghty (@jimgeraghty) April 4, 2016
Jim, I'm not mad but a lot of your colleagues are. My point is that we need those supporters even after he loses. https://t.co/Yd8inSunGQ

— Joe Scarborough (@JoeNBC) April 4, 2016
The @JoeNBC argument is that it's out-of-line to criticize Trump fans – but you inherently do that when you criticize the candidate.

— jimgeraghty (@jimgeraghty) April 4, 2016
Criticizing is one thing. Calling them racist OxyContin freaks who don't love Jesus is quite another. https://t.co/UJmyJobd6W

— Joe Scarborough (@JoeNBC) April 4, 2016
@JoeNBC So you object to the tone but not substance. Your "using bigotry to fuel campaign" totally different, right?https://t.co/OoN151kgF5

— jimgeraghty (@jimgeraghty) April 4, 2016
Jim, don't call voters you will need in future campaigns racist drug freaks who don't love Jesus. This is simple. https://t.co/5iShAZ6yQ3

— Joe Scarborough (@JoeNBC) April 4, 2016
.@JoeNBC Who's "you"? I'm not running for anything. @KevinNR isn't. (And did his name ever get mentioned on the show?)

— jimgeraghty (@jimgeraghty) April 4, 2016
You're an angry man. You've proven my point. And yes. The Klan remarks and the Muslim bans are disqualifying to me. https://t.co/igLpG8D6F2

— Joe Scarborough (@JoeNBC) April 4, 2016
But I don't judge his supporters as racists OxyContin freaks who aren't true Christians. Have a good day. ? https://t.co/wAV5ntDfmL

— Joe Scarborough (@JoeNBC) April 4, 2016
Have a tip we should know? [email protected]