Joe Scarborough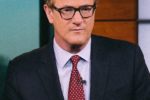 Charles Joseph Scarborough is a cable news host of the show "Morning Joe" with his co-host and wife, Mika Brzezinski, on MSNBC. He was previously a lawyer and politician, serving as a Republican U.S. Congressman for the state of Florida from 1995 to 2001.
Joe Scarborough Q&A
What office did Joe Scarborough hold?
Representative in Flordia's 1st District.
Does Joe Scarborough have a law degree?
He has a B.A. from the University of Alabama and a Juris Doctor degree from the University of Florida.
Joe Scarborough Noteworthy Stories
July 26, 2019
Joe Scarborough names Mitch McConnell "Moscow Mitch" as he goes off on the Senate Majority Leader for not taking Russian interference seriously.
Latest Joe Scarborough Stories