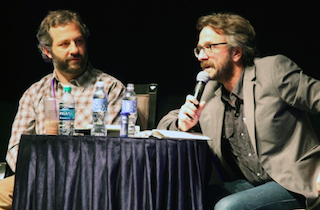 As the world's preeminent comedy podcaster, Marc Maron has started to feel a bit guilty about not actively addressing the whole Bill Cosby situation. So on Monday's show, before an interview with Jeff Garlin, the WTF host decided to call up someone who has not been shy about sharing his opinion on the subject: Judd Apatow.
In an email to his dedicated listeners, Maron wrote this about his decision to finally address the dozens of rape allegations against Cosby:
I've been feeling a little weird for not talking about the Bill Cosby situation. It is something that is happening in the world but Cosby is a comedian. My show is part of the community of comedians. I have not figured out a way to talk about it because I'm not sure what my feelings were or where I stood because I was copping out with the 'due process' excuse. Look, everyone deserves due process and everyone is innocent until proven guilty—in court. In life, it just doesn't always work out that way. I found myself saying, "If he did it, he's a horrible sociopathic serial rapist." If he did it? Well, this is not going to court and he's not going to cop to it. There will be no due process. The statute of limitations is presumably up in most cases and, let's be honest, the powerful are above the law. So, I have to have an opinion. Given the number of accusations it's become pretty clear to me that he did it. What does that mean? What happens now? I knew that Judd Apatow has been pretty outspoken on keeping the conversation alive about Cosby on Twitter so I thought I would give him a call and talk about what the reality of the accusations, the lack of response and the reality that Bill Cosby did some awful shit means at the very least to our community. It was a good talk.
It was more than a good talk. It was the most frank discussion of what Cosby allegations mean for the comedy community from two men who represent it better than most. Given the relatively chilly reaction Tina Fey and Amy Poehler's jokes about Cosby received from the crowd in attendance at last night's Golden Globes, it is a discussion that needed to be had.
"One thing I do know, is I'm not comfortable with him running around the country doing stand-up like nothing's happening," Apatow said. Asked by Maron if the destruction of Cosby's "legacy" isn't enough, Apatow added, "Oh, he should absolutely be in jail. That's where people who commit sexual assaults go."
He went to say that it is Cosby's celebrity status that is allowing people to overlook the heinous nature of his alleged crimes. "If we admit that Cosby did this, we're not allowed to enjoy everything that made us so happy" in his work," Apatow said.
Referencing the recent jokes Cosby himself made about the allegations against him, Maron expressed outrage that he was "now using our form and his form [stand-up] to sort of trivialize this thing."
Apatow defended the motives of the women who are speaking out against Cosby, saying it's not like they are asking for money. "There's nothing fun about being 70 years old and having to go on CNN and say Bill Cosby raped you," he said, before admonishing the rest of Hollywood for failing to have the courage to support those women.
Later in the interview, Apatow said he views Cosby as "our comedy dad" and thinks it is his responsibility, as someone with two daughters, to take him to task in a public way. "The reason to say, 'Bill Cosby is a terrible man and I believe these women' is so women aren't hiding in their homes in shame when people commit violent crimes against them."
"That's why everybody has to say, 'I just want to go on record, I believe these women,'" Apatow continued. "But you're not seeing important people say that. It is dead silent out there. And I find it very, very troubling."
Listen to a portion of the longer conversation below, via the WTF podcast:
And you can hear the full interview at wtfpod.com.
[Photo via Michelle Paster/Jewish Journal]
— —
>> Follow Matt Wilstein (@TheMattWilstein) on Twitter
Have a tip we should know? tips@mediaite.com