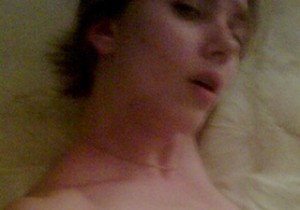 About a month ago, some teenage boy, somewhere, blew out his birthday candles and made a very specific wish. The next day, two pictures of a naked Scarlett Johansson hit the Internet (link is NSFW). Coincidence? Perhaps. But the released photos were already in the line of fire for authorities, who had been seeking out the perpetrator behind the hacking of celebrity phones and email accounts since at least March. On Wednesday, an indictment was unsealed in the U.S. District Court in California, revealing that Christopher Chaney, a 35 year-old Jacksonville resident, was believed to be behind the hacking. He was charged with eight counts of aggravated identity theft, nine counts of wiretapping, and nine counts of computer hacking. If found guilty on all charges, he could face 121 years in prison.
Cheney's methods, as ultimately immoral as they might have been, smacked of brilliance in their simplicity. He allegedly used readily-available public information to make guesses at the passwords or password reminder questions of some celebrities (like your high school, or mother's maiden name). When he figured them out, he would mine the accounts for other celebrity emails, using information to guess their passwords. He'd also forward mail accounts to his own (in the indictment, his aliases were trainreqsuckswhat, anonygrrl, and jaxjaguars911), so any, say, nude photos or movie scripts sent to a hacked celebrity were unwittingly forwarded to Chaney. Authorities also said he had access to the celebrities' financial information.
As conditions of Chaney's bail — he's free after posting a $10,000 unsecured bond — he is forbidden from using any computer or other device with Internet access (so if he's a Blackberry user, no problem) and he can't have any controlled substances or excessive use of alcohol. He's scheduled to appear in court tomorrow for an identity hearing.
Other fun little nuggets from the indictment and press conference held by Andre Birotte, Jr:
-The only two names that aren't represented by initials are those of Mila Kunis, Johansson, Renee Olstead, Christina Aguilera, and designer/stylist Simone Harouche.
-Those identified with initials included B.P., J.A., L.B., L.S., D.F., and B.G. Guess away!
-The FBI is referring to the case as "Hackerazzi."
-Even though we think of wiretapping as a phone crime, Birotte explained that the same statute prohibits someone from intercepting emails.
Have a tip we should know? tips@mediaite.com