Keith Ellison Criticized For Selfie With Antifa Handbook: 'Does The DNC Now Support Terrorist Groups?'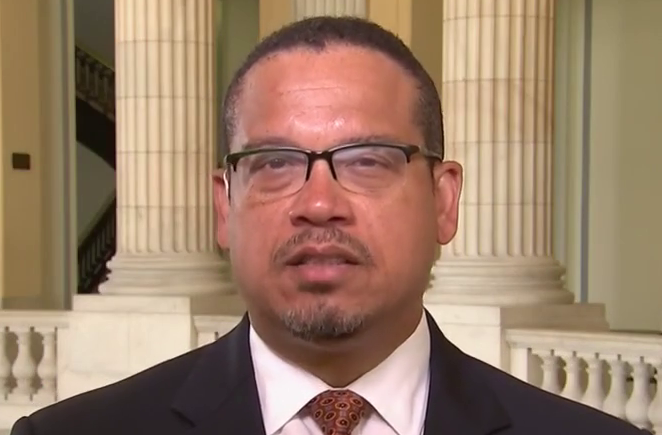 Congressman Keith Ellison (D-MN) is getting a lot a flack for a tweet he posted on Wednesday.
Ellison, a prominent Democrat on Capitol Hill who also serves as the deputy chairman of the Democratic National Committee, attempted to troll President Trump with the following selfie:
At @MoonPalaceBooks and I just found the book that strike fear in the heart of @realDonaldTrump pic.twitter.com/r81nYoeqpL

— Rep. Keith Ellison (@keithellison) January 3, 2018
Antifa made a ton of headlines in 2017 for their incitements of violence that were initially viewed by many on the left as anti-Trump protests. The group has also been classified by the Department of Homeland Security as a "domestic terrorist organization."
Ellison was criticized for "endorsing" Antifa.
A terrorist manual should concern the president. Especially in the hands of a member of Congress.

— Mark Dice (@MarkDice) January 4, 2018
.@keithellison you do know that ANTIFA is labeled as a domestic terrorist organization by Homeland Security, right? https://t.co/Q7QvCINtr6

— Oliver McGee PhD MBA (@OliverMcGee) January 4, 2018
This is pretty dumb. Sigh.

— Ian Livingston (@islivingston) January 4, 2018
Delete this tweet.

— Simon Hedlin (@simonhedlin) January 4, 2018
DNC co-chair and sitting congressman, Keith Ellison, known for his far-left ideology and anti-Israel views, promotes a book about #Antifa a far-left radical group that has a well-documented history of violence against political opponents. https://t.co/Z56N4kxOu8

— Joe Walsh (@WalshFreedom) January 3, 2018
I would call Keith Ellison out for endorsing the fascist Antifa group, but the congressman doesn't like me very much… pic.twitter.com/Teikt50GGu

— Alana Mastrangelo (@ARmastrangelo) January 3, 2018
In light of this photo from a Democrat member of Congress, a reminder: the Department of Homeland Security alerted state and local officials about Antifa in 2016, labeling the group as 'domestic terrorist violence' pic.twitter.com/mI2ksaJeZO

— Matt Wolking (@MattWolking) January 4, 2018
Very clarifying to hear that you're pro-violence

— Curtis Houck (@CurtisHouck) January 3, 2018
The FBI and DHS consider Antifa a domestic terrorist organization. Keith is a DNC official AND member of Congress. Does the @DNC now support terrorist groups? Every Democrat in Congress should have to answer for this ON the record. https://t.co/Xi49ZP1aGu

— Jordan Schachtel (@JordanSchachtel) January 3, 2018
I mean, I guess Antifa is a step below palling around with dudes who fund suicide bombers https://t.co/7PgAX6du9N

— Katie Pavlich (@KatiePavlich) January 4, 2018
[image via screengrab]
Have a tip we should know? tips@mediaite.com