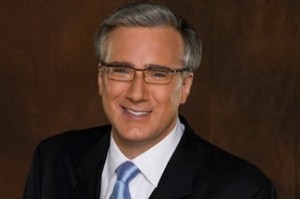 As promised following his dramatic ousting from Current TV, Keith Olbermann has officially filed a lawsuit against the network. As reported by Variety, the suit claims Olbermann was wrongfully terminated from his contract. Current released a statement saying the network is "happy to engage" in the legal process — quipping that Olbermann "is actually required to show up."
RELATED: $10 Mil Chandelier Keith Olbermann Shattered Glass In On-Set Tantrum, Internal Email Reveals
According to a TMZ report, the suit claims Current stills owes Olbermann up to $70 million in unpaid compensation, and it alleges that the network violated the contract. From TMZ:
In the lawsuit, filed in L.A. and obtained by TMZ, Keith says, "After being enticed to leave MSNBC and come to Current with promise of editorial control, freedom from corporate influence and the professional support to produce a high-caliber political commentary show of the type his viewers have come to expect, Keith Olbermann was disheartened to discover Al Gore, Joel Hyatt and the management of Current are no more than dilettantes portraying entertainment industry executives."

Olbermann claims his "public termination" last week was "the latest in a series of increasingly erratic and unprofessional actions undertaken by Current's senior management."

Keith alleges Current was so dysfunctional and broke after the network's first 8 months on the air, Current "still couldn't manage to, literally, keep the lights on."
The report says he is suing for breach of contract, sabotage and disparagement.
Via Mediaite's Tommy Christopher, here is the statement from Current PR specialist Christopher Lehane:
Current terminated Keith Olbermann last Thursday for serial, material breaches of his contract, including the failure to show up at work, sabotaging the network and attacking Current and its executives.

As the old adage says: "When the law is on your side, you argue the law. When the facts are on your side, you argue the facts. When neither the law nor the facts are on your side, you pound the table."

We will be happy to engage on the law and the facts in the appropriate forum.

It is well established that over his professional career Mr. Olbermann has specialized in pounding the table.

However, Mr. Olbermann, by filing his false and malicious lawsuit, has now put this matter into a legal process where there will be an objective review of the facts.

We hope Mr. Olbermann understands that when it comes to the legal process, he is actually required to show up.
So it begins.
Have a tip we should know? tips@mediaite.com