Latina Actress Pens Blistering Letter About Immigrants: 'We're Here to Stay'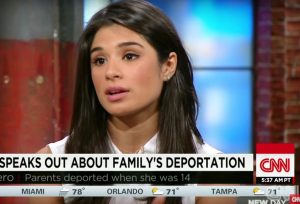 Diane Guerrero is an actress known for her roles on Orange is the New Black and Jane the Virgin, but she may be equally recognizable for her advocacy for immigrants' rights. A 2014 appearance on CNN during which she teared up discussing her parents' deportation launched her to the forefront of the movement for immigration reform and her 2016 book on the subject solidified her place there.
Today, she released an essay on Vice's women's platform Broadly titled "'We Are Here to Stay': OITNB's Diane Guerrero on the Future of Immigrant Rights."
She pulled no punches, beginning her piece with this:
Today, Latino, immigrant and Muslim children are scared—and with good reason. Our nation will soon be led by a man who ran a campaign based on fear and hatred against immigrants, communities of color, Muslims, women, the disabled, and many more.

Equally disconcerting is the fact that President-elect Donald Trump will replace President Barack Obama, the best president of my lifetime, whose legitimacy to sit in the Oval Office Trump directly and repeatedly challenged.
In spite of the fear she mentioned, she went on to say that she and others like her are not going anywhere. She wrote, "We are here to stay and we are ready to fight back. We may be afraid, but we are united and we are tough."
She called on Americans and immigrants to work together toward protecting the legacy of President Barack Obama and DACA, making it very clear that anti-immigrant sentiments and violence will not stop her.
Read the whole thing here.
[image: screengrab]
Have a tip we should know? tips@mediaite.com