US Men's Soccer Team Plays Mexico Tonight in Key World Cup Qualifier Amid Post-Election Tension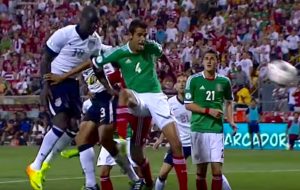 The US men's soccer team has no greater rival than Mexico. The battles between the two sides are often heated. The fans are raucous in whichever of the two nations the match is played.
Tonight's World Cup qualifying match between the sides takes place in the United States — Ohio, to be precise. The same Ohio that, earlier this week, helped put Donald Trump in the White House.
President Elect Trump's proposal to build a wall along the southern border has not been well received in Mexico, both among its citizens as well as current and former members of the government. On Wednesday, Mexico's President, Enrique Pena Nieto placed a congratulatory phone call to Trump. But it is clear that tensions between the two nations are high.
Amidst that backdrop, the US soccer team welcomes El Tri, as the Mexican side is known, in a match that is crucial in both team's quest to earn a spot in the 2018 World Cup.
Players from both teams are hoping the tension won't result in any poor fan behavior. Mexico is expected to have some fans in the building, though not as many as the US in the 25,000 seat stadium.
"I would hope that (fans) give every person in that stadium the respect that they deserve, whether they're American, Mexican, neutral, (men), women, children," said US captain Michael Bradley, according to ESPN. "I would hope that every person that comes to the stadium comes ready to enjoy what we all want to be a beautiful game between two sporting rivals that have a lot of respect for each other, and hope that it's a special night in every way."
"I don't want to see negative songs or anything from either side," added Alejandro Bedoya, another US player. "You don't want to hear the [cheer] the Mexicans use. I don't need to repeat it. And you don't want to hear chants about walls or anything like that."
The American Outlaws, an organized group of US soccer fans, posted a note to their website in which they laid out a zero tolerance policy on poor fan behavior.
"What we ask of each and every one of those in our sections and at our events is not much; just basic human decency: no racism, no sexism, no homophobia, no discrimination, no physical or verbal attacks. It's pretty simple. Follow this and you're welcome in our sections and at our events," the note said.
Also, prior to the start of the game, the group will sing a verse from the Woody Guthrie folk song, "This Land is Your Land" as a show of support for the Mexican fans.
[image via screengrab]
–
Follow Joe DePaolo (@joe_depaolo)
Have a tip we should know? tips@mediaite.com
Joe DePaolo - Senior Editor