Laura Ingraham Enters Into Twitter Battle With Chris Brown, 50 Cent, And Their Fans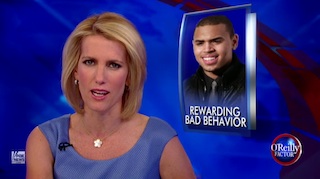 Last week, Laura Ingraham appeared on The Today Show to promote her new book, Of Thee I Zing, which deals in part on the destruction of our culture (a topic that's been good for books for as long as there's been culture…and books). While there, she gave a couple of examples she'd seen which included a man watching porn on an airplane (for the hundredth time, Laura, it was a long flight and I'm sorry) and the musicians that Today itself had booked for their summer concert series. A few days later, after R&B singer Chris Brown, perhaps better known for the whole brutally beating up Rihanna thing, performed on the show, Ingraham took he and Today to task which has now led to a heated Twitter fight between she, Brown, the rapper 50 Cent, and their fans.
Man, an ugly Twitter fight? Ingraham's going to get enough content for at least four more "OUR CULTURE IS BEING DEGRADED" books.
A few hours after Brown's appearance on Today, Ingraham was guest hosting The O'Reilly Factor and she laid into the singer with a segment titled "NBC Rewarding Bad Behavior?" in which she showed clips of a producer confronting Brown's fans with pictures of Rihanna's battered face. Unsurprisingly, Brown was not thrilled. What is surprising is that he and 50 Cent apparently watch The O'Reilly Factor.
Soon, Ingraham responded: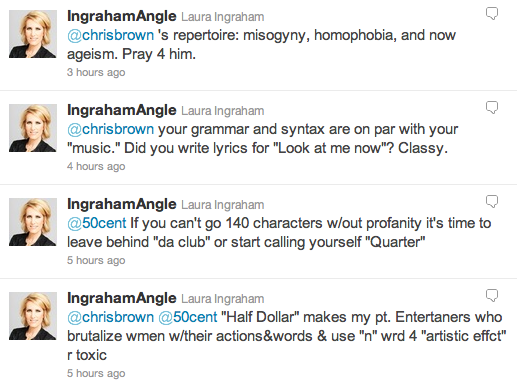 As of yet, neither Brown nor 50 Cent have continued the fight although their fans have and, considering that Brown's performance on Friday broke attendance records, it's clear that there are still a lot of them. A quick look at the response has inevitably turned up everything from calm pleas for forgiveness to violent expletives and threats.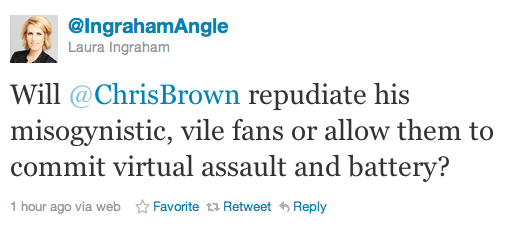 Like all battles between self-righteous TV personalities and troubled, violent musicians, this feud will most likely be beneficial to everyone involved. And that includes, of course, those of us watching from the sidelines.
Below, watch Ingraham's segment on Brown from last Friday courtesy of Fox News:
Have a tip we should know? tips@mediaite.com