Lawrence O'Donnell 'Desperately' Misses Show Business: 'I Will Do Anything Short Of Pornography'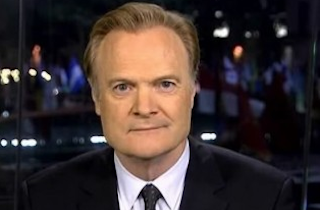 Lawrence O'Donnell really, really misses show business. Indeed, on MSNBC, "every show we do offends my artistic sensibilities in some ways." In an interview with Salon, O'Donnell spoke about his cameo as a news anchor in the movie Olympus Has Fallen — and the "cruelest deadline" of primetime cable news.
Asked why he says yes when approached about movies, O'Donnell had a simple response: "Because I miss show business so desperately that I will do anything short of pornography at this point to hang around sets and have fun."
Touting the creative, energetic atmosphere of sets, O'Donnell lamented the "tragic" comparison between moviemaking and his nightly show. "What I'd love to have is a crawl at the bottom of the screen, reading: 'You are watching an unrehearsed first draft,'" he noted. "To put something onscreen unrehearsed is just madness. To expose a first draft to anyone's ears other than your own is indecent."
Yet that's precisely what he does every night, "and so every show we do offends my artistic sensibilities in some ways." It's "the cruelest deadline I've ever been exposed to," he said, but the viewers appear to be forgiving.
O'Donnell also said he's not worried that appearing on TV or in movies would "dilute" his authority, namely because he doesn't have much authority. Cable news audiences are small, he asserted, so most people seeing his appearances wouldn't recognize him.
Elsewhere in the interview, the MSNBC host was asked to offer advice to fellow MSNBCer Chris Hayes, who's officially taking over Ed Schultz's 8 p.m. slot on the network.
"My dark secret is that I have had more shows cancelled on MSNBC than anyone in its history, and I made sure we never had press releases announcing them in the first place," O'Donnell said. There's no real way to offer advice he said, offering Rachel Maddow as an example: She's done well being herself.
"I still don't get this kind of television," O'Donnell said. "I have no advice for anyone."
Read the full interview here.
Have a tip we should know? tips@mediaite.com