Lawyer of Rand Paul's Alleged Attacker: Assault Had 'Nothing to Do' With Politics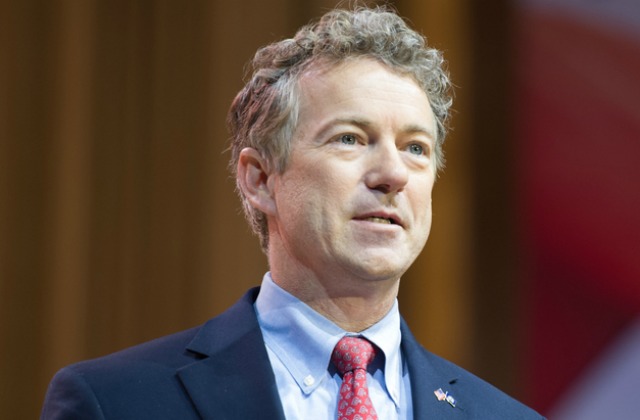 The lawyer of Rene Boucher, who is alleged to have attacked Senator Rand Paul over the weekend, has released a statement on behalf of his client, attempting to put to rest theories that the assault was politically motivated.
Attorney Matthew Baker wrote that the attack had "absolutely nothing to do with either's politics or political agendas," adding that the whole ordeal was "a very regrettable dispute between two neighbors over a matter that most people would regard as trivial."
Baker did not, however, let us in on what the "trivial" matter was that allegedly led his client to brutally attack the senator, giving him five rib fractures and lung contusions as he mowed his lawn. It has been suggested that the attack was spurred by a property dispute involving a creek behind Paul's home.
NEW: statement from lawyer of alleged @RandPaul attacker, Rene Boucher: #RandPaulAttack pic.twitter.com/AsYIE9kc1j

— Brooke Singman (@brookefoxnews) November 6, 2017
The two have been next-door neighbors for nearly two decades and, according to an unnamed source, they haven't spoken in several years. They have also acted as professional colleagues in the past, another potential point of tension.
"They are also prominent members of the local medical community and worked together when they were both practicing physicians," Baker wrote.
Boucher, who is an anesthesiologist, was originally charged with one count of fourth-degree assault, though the FBI is carrying out their own investigation and the charges could be upped to a felony, due to the severity of Senator's injuries.
"It requires serious physical injury in order for someone to be charged with a felony," a spokesman for the Kentucky State Police said. "Our arresting officer will submit his completed case report and then the prosecutors will make a decision about whether to upgrade those charges."
Baker, on behalf of Boucher, handed out well wishes to the Kentucky senator.
"We sincerely hope that Senator Paul is doing well and that these two gentlemen can get back to being neighbors as quickly as possible."
Paul is in recovery, though he is still in a substantial amount of pain.
"It is not clear exactly how soon he will return to work, as the pain is considerable, as is the difficulty in getting around, including flying," Doug Stafford, a senior adviser, said.
[image via Christopher Halloran / Shutterstock.com]
Have a tip we should know? [email protected]