Lawyer Overseeing News Corp.'s Internal Hacking Probe Is Old Pals With US Attorney Leading Investigation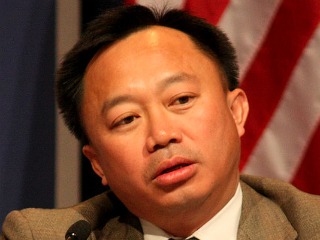 On Time's Swampland blog today, Massimo Calabresi reveals something interesting about Viet Dinh, the former Assistant Attorney General of the United States and Georgetown professor handpicked by Rupert Murdoch to oversee News Corp.'s internal probe into allegations of phone hacking. During his first week at Harvard, Dinh began a long, ongoing friendship with Preet Bharara — who just so happens to be the U.S. Attorney for the Southern District of New York and the person leading the U.S.'s investigation into News Corp. Awk. WARD!
As Calabresi reports, their friendship is pretty solid:
Dinh and Bharara met their first week of freshman year at Harvard when they landed in a seminar together. "The topic of the day was whether the framers of the Constitution conceived man as good or evil," Dinh told me in 2007 when I interviewed him for a profile of Bharara, who was then leading the Senate investigation into the firing of U.S. attorneys by Bush administration political figures. "We ended up debating and arguing through the night until we went to breakfast and argued some more and then went to lunch," Dinh said.

From there they became good friends. Bharara was best man at Dinh's wedding. Professionally, they went to opposite parties but have stayed close. "He's been my best friend through Whitewater and through impeachment and through the USA Patriot Act, and God knows what kind of hurt he took from his Democratic friends," Dinh said in my interview with him, praising Bharara even as he took the lead on the U.S. Attorneys investigation. "So I'm glad there's a little bit of payback time now," Dinh said.
So is there a conflict of interest or murky ethical territory at play in the fact that both men are investigating the same company from different sides? Calabresi notes that it is "unclear" whether either of the two has considered recusing himself from his investigations, even though the U.S. Attorney's manual allows for "discretionary recusal in cases where there may be an appearance of a conflict." And according to the rules for companies listed under the NASDAQ exchange, independent directors cannot have a relationship that "would interfere with the exercise of independent judgment in carrying out the responsibilities of a director."
Neither man would comment on their friendship or whether they've considered recusing themselves, but a spokesperson for Dinh said the two have not discussed the latter.
h/t Time
Have a tip we should know? tips@mediaite.com