Leaked Katie Couric Email to Clinton Staffer Shows Host Hoped to 'Showcase Her Personality'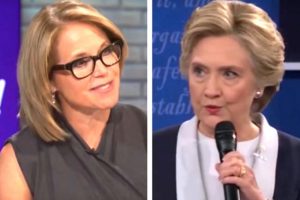 Wikileaks this morning released the third batch of leaked emails from the personal gmail account of John Podesta, the chairman of the Clinton campaign. The first batch of these emails proved to be pretty damning for the Clinton camp all things considered; excerpts from paid speeches to Goldman Sachs were revealed, something that the former Secretary of State has fought to keep under wraps, though it admittedly earned far fewer headlines because of her Republican rival Mr. Tic Tac.
This morning, one of the newest 1,190 emails from Podesta's account reveals a note Mediaite found in the archives from host Katie Couric from this past February requesting a sit-down with Hillary Clinton herself. "We've been working with the campaign folks to reschedule my interview with Secretary Clinton," Couric writes in the email.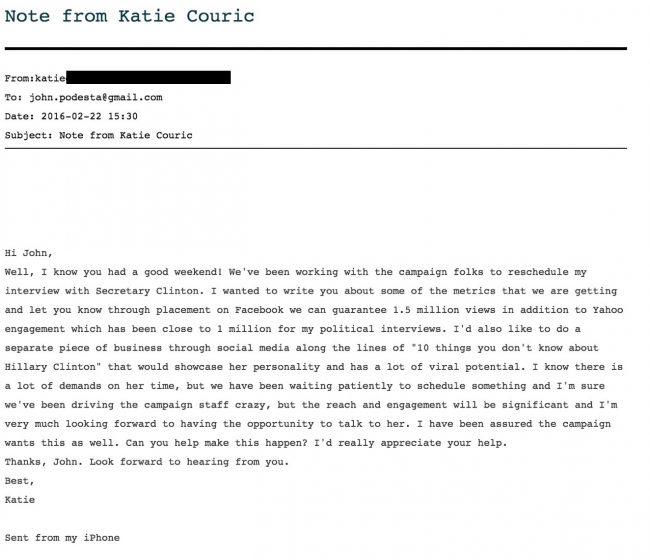 Couric tells Podesta that she can guarantee 1.5 million views for the video through Facebook metrics, "…in addition to Yahoo engagement which has been close to 1 million for my political interviews," she writes.
The Yahoo host goes on to indicate that she would also like to spearhead a listicle (they're so popular with the kids these days) titled "10 things you don't know about Hillary Clinton."
The purpose of this piece of content?
To "showcase her personality," Couric writes.
"[T]he reach and engagement will be significant and I'm very much looking forward to having this opportunity to talk to her," she continues. "I have been assured the campaign wants this as well. Can you help make this happen?" The interview never materialized.
You can view the original email from Couric to Podesta here, and Wikileaks has the full batch of newest Podesta leaks here.
—
J.D. Durkin (@jiveDurkey) is an editorial producer and columnist at Mediaite.
[images via screengrab]
Have a tip we should know? tips@mediaite.com