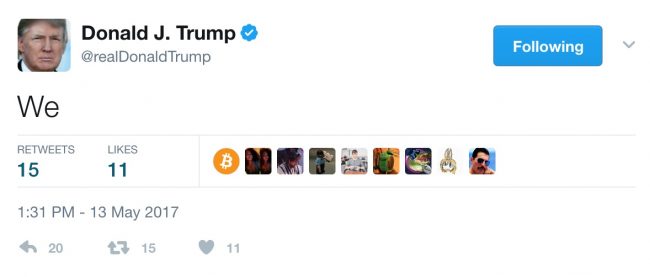 Today, President Donald Trump tweeted.
For a long time, reporters have debated whether his tweets, which range from offensive to shocking, are worth covering. The ultimate conclusion has been that yeah, they are. Today's is, too, then. Today's tweet just said "We."
Was it a typo? Perhaps a unifying message of oneness and hope? We may never know because it's been deleted now and a new one advertising his upcoming interview on Fox News has sprung up in its place.
All we can do is speculate and remember:
"The president's tweet speaks for itself." pic.twitter.com/XaEpxpm3qs

— Kaitlan Collins (@kaitlancollins) May 13, 2017
@realDonaldTrump @JudgeJeanine @FoxNews Your original tweet was MUCH better (and more coherent!) pic.twitter.com/xCFqpO2pIj

— Jules Suzdaltsev (@jules_su) May 13, 2017
#We want the funk
Give up the funk
We need the funk
We gotta have that funk pic.twitter.com/kenE6FMUD4

— Barbara Van Dyke (@momsaterp) May 13, 2017
@GideonResnick It's official policy now pic.twitter.com/gyFIaQ5jkj

— ElElegante101 (@skolanach) May 13, 2017
Best fill in the blank game ever! " #we are horrible?" "We are traitors?" The possibilities are endless. pic.twitter.com/0zOTCiaIUS

— Maggie (@emjay_probably) May 13, 2017
@AynRandPaulRyan have no idea what we're doing.

— mavanhoever (@TimesUpTrump) May 13, 2017
@Travon It probably still feels weird for him to start a sentence with "we" instead of "I"

— Jim Tews (@jimtews) May 13, 2017
Some have coopted "we," hashtagged it, and turned it on the president.
@GetTrumpout74 #We don't like
Russians in our white house with electronics.

— Nancy Hart Martin (@carrieabigstick) May 13, 2017
@AdamParkhomenko #We can't wait to hear what he has to say.

— Dump Trump (@richob72) May 13, 2017
#We are not amused. pic.twitter.com/plmtB6qac3

— ProgressWIS (@ProgWIS) May 13, 2017
#We miss Obama

— Mary Anne Cox (@machaos4) May 13, 2017
— Jennifer Wheeler (@jennwheeler) May 13, 2017
In conclusion, "We."
[image: screengrab]
Have a tip we should know? tips@mediaite.com