Wait, What? President Trump Reportedly Consulted Longtime Bodyguard On Comey Firing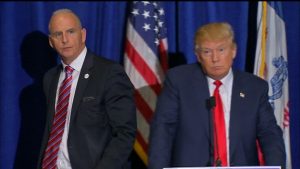 In the last few days, we've been hearing a lot about Keith Schiller.
Who is this guy, who reportedly counseled Donald Trump as he decided to fire James Comey and then even delivered the letter with the news to the FBI? Is he some secretive, deep-level government employee? No! He's just Trump's longtime bodyguard. Yeah, seriously, we've reached the point where the president is seeking counsel from his bodyguard about what to do with the FBI director.
Back in December, our Justin Baragona explained that Schiller is "a former NYPD police officer who first began working for Trump in 1999" while going over Trump's break from tradition in using a private security force of his own. Schiller is that break from tradition in so many ways.
The latest way is explained by the AP like this:
Several people close to the president say his reliance on a small cadre of advisers as he mulled firing Comey reflects his broader distrust of many of his own staffers. He leans heavily on daughter Ivanka Trump and son-in-law Jared Kushner, as well as Hope Hicks, his trusted campaign spokeswoman and Keith Schiller, his longtime bodyguard. Schiller was among those Trump consulted about Comey and was tapped by the president to deliver a letter informing the director of his firing.
For those keeping track, Trump relies on his daughter, her real estate empire legatee of a husband, a young woman whose career training was in corporate public relations, and his bodyguard to help him make decisions about how to do his job as leader of the free world.
[image: screengrab]
Have a tip we should know? tips@mediaite.com