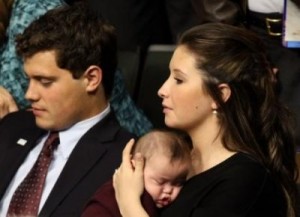 Looks like Levi Johnston's Deer in the Headlights will be a swinging rebuttal to Bristol Palin's own sort of accusatory memoir, Not Afraid Of Life. According to the AP, "Levi Johnston writes in his upcoming book that his ex-girlfriend Bristol Palin was so angry about her mother's pregnancy with son Trig that she wanted to get pregnant, too." And so, Bristol vengeful and Levi admittedly "too dumb" to use protection, the two decided sometime in March of 2008 to "get pregnant." Whether or not they were decided on the "having a baby" part that follows remains undiscussed, but seems unlikely as the two split soon after Tripp's birth.
Bristol and Johnston's story has been told a lot of different ways now — by Bristol, by Levi, by Sarah Palin and the tabloids — each time pointedly and baring intention. And while both Bristol and Levi have been open about mistakes they've made (for Bristol, there were those "girly tasting" wine coolers; and Johnston, it seems, was not well versed in contraceptive), this is the first time it's been suggested that the two might have decided together: "Let's get pregnant!"
And so he-said, she-said and maybe this conversation actually did happen! What's it matter at this point, though, if it was "all her idea"? His assumption that the pregnancy was meant by Bristol to serve revenge seems like a certain disavowal of responsibility on his part, like a perhaps Freudian misinterpretation of mother-daughter jealousies, and like an attempt to further stir the Palin pot — which, truthfully, has kept him fed and with publishers all these years later. It all doesn't seem so much vindictive on his part as it does typically jejune — much like the rest of the young parent's spits that have drawn so much attention.
Have a tip we should know? tips@mediaite.com