Lewandowski Says NYT's Dean Baquet 'Should Be in Jail' for Publishing Trump's Tax Info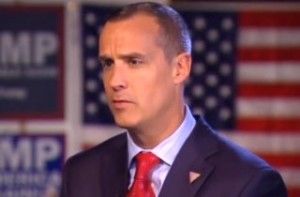 Former Donald Trump campaign manager Corey Lewandowski says that New York Times executive editor Dean Baquet should be thrown in prison over his paper's bombshell report on the president-elect's tax history.
Lewandowski attended a post-election conference at Harvard University earlier this week, where staffers for Trump and Hillary Clinton tore into each other over how they conducted themselves throughout the election. During his participation, Lewandoski remarked that the media's surprise with Trump's victory was because they took the mogul literally instead of seriously like his supporters did.
Politico reported that Lewandowski eventually turned his attention to The New York Times over their Trump coverage:
"We had one of the top people at The New York Times come to Harvard University and say, 'I'm willing to go to jail to get a copy of Donald Trump's taxes so I can publish them.' Dean Baquet came here and offered to go to jail — you're telling me, he's willing to commit a felony on a private citizen to post his taxes, and there isn't enough scrutiny on the Trump campaign and his business dealings and his taxes? It's egregious. He should be in jail."
Lewandowski said this in reference to the Times' report on fragments of Trump's tax returns from 1995. Not only did the documents suggest that Trump lost nearly $1 billion in a single year, the Times also noted that Trump might have used it to avoid paying income taxes for almost two decades.
During his stint as a CNN political commentator, Lewandowski hoped that Trump would sue the Times "into oblivion" for publishing the documents without permission. Lewandowski quit his job after the election, and it is possible that he will hold a position in Trump's administration.
[Image via screengrab]
— —
>> Follow Ken Meyer (@KenMeyer91) on Twitter
Have a tip we should know? tips@mediaite.com