LGBT Activists Plan Response to Westboro Baptist Church Protesting Orlando Funerals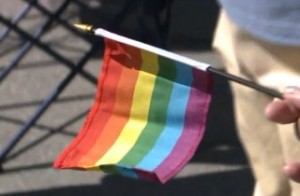 Following an announcement from the infamous Westboro Baptist Church that they would be protesting the funerals of victims of the Pulse nightclub attack, LGBT activists are organizing with theater groups to stage a counter-protest to the WBC's action.
In The Mary Sue (a sister site of Mediaite), Teresa Jusino writes:
[The GLBT Community Center of Central Florida] will be working with the American Theater in Orlando and the Orlando Shakespeare Theater to create large angel wings for the protest. Protesters will be able to wear them to shield the grieving families from the sight of Westboro in a move reminiscent of the protests that took place after Matthew Shepard was killed in a hate crime in Laramie, WY almost 20 years ago. In addition, there is a Facebook page called Human Chain Link for Pulse Funerals that is organizing additional counter-protests in support of the victims.
The WBC is a sparsely attended extremist sect that gained notoriety and near-universal contempt in the 1990s and 2000s for its members' practice of picketing funerals of U.S. soldiers and others, brandishing incendiary signs and singing songs preaching their gospel that "God hates fags."
In the 2011 U.S. Supreme Court case Snyder v. Phelps, the court held in an 8-1 decision that signs proclaiming, "Fag troops"  and "Thank God for dead soldiers," were protected speech under the First Amendment.
WBC is uniquely hateful in their rhetoric, but they are paltry in attendance. Jusino notes that "there's fewer than 50 of them. They will always be outnumbered."
[h/t The Mary Sue]
Have a tip we should know? tips@mediaite.com