Limbaugh On Correspondents' Dinner: Brokaw Saying 'Whole Industry Is Losing Whatever Reputation It Had'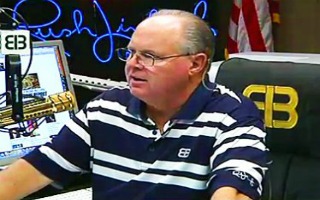 On Monday, conservative radio host Rush Limbaugh tackled issues raised by former NBC news anchor Tom Brokaw on Meet the Press on Sunday about the nature of the White House Correspondents' Dinner. Brokaw told NBC host David Gregory that the WHCD has evolved overtime and is now alienating average citizens. Limbaugh said that the genesis of this change arose when the media became advocates for Democratic policies and politicians. "The Washington press corps is groupies for both the president – when he's a Democrat – and for the Hollywood showbiz people and glitterati they invite," said Limbaugh.

RELATED: Tom Brokaw: 'It Is Time To Rethink' The White House Correspondents' Dinner
Limbaugh played a clip of Brokaw on Sunday's Meet The Press saying that he believed it was time to "rethink" the White House Correspondents' Dinner. "If there's ever an event that separates the press from the people that they're supposed to serve symbolically, it is that one," said Brokaw. Brokaw provoked some criticism from his fellow journalists for the statement — Fox News' White House correspondent Ed Henry said that, while he respects Brokaw, the night is about more than just celebrities.
Limbaugh pondered what he thought the WHCD was like when Brokaw was anchoring NBC's Nightly News, and said that he thought it has changed over the course of the years. "It was not Washington's version of the Academy Awards without the awards," said Limbaugh. "The tradition was that the president showed up and made fun of himself. It was a self-deprecating night."
Limbaugh said that the change in the event occurred around 1989-1990 when "the media's monopoly blew up." He said that was approximately when the media became involved in the "ideological battle" rather than simply covering it, the WHCD became a more self-serving event for the press and for politicians.
"Once they started inviting outside celebrities to the thing, then the cocktail parties began, because those people have to be entertained," said Limbaugh. "They call it the nerd prom for a reason."
"They're groupies," said Limbaugh. "The Washington press corps is groupies for both the president – when he's a Democrat – and for the Hollywood showbiz people and glitterati they invite."
Limbaugh continued to say that once the media embraced advocacy rather than journalism, that the WHCD became an extension of the daily battle – which is to "take down their enemies."
"I've asked this question about Democrats; is there an adult Democrat who sees where the current crop is taking this country, and doesn't like it," asked Limbaugh. "Are there any media people left who really are embarrassed at MSNBC? Are there any media people left who really think that the whole industry is losing whatever reputation it had? Maybe that is Brokaw."
Listen to the segment below via the Rush Limbaugh radio program:
h/t Daily Rushbo
Have a tip we should know? tips@mediaite.com