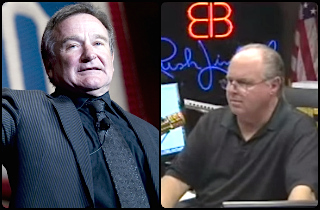 Rush Limbaugh wasted no time Tuesday using the death of actor Robin Williams to further his own political beliefs. During his radio show, the host used an anonymously-sourced article on FoxNews.com to diagnose Williams' emotional struggles and draw larger conclusions about "political leftists."
Limbaugh began by discussing the left's "worldview" as one of "pessimism and darkness" before turning more specifically to the news about Williams' suicide. He quoted liberally from a Fox 411 story by Hollie McKay that cites various "insiders" who say Williams' depression stemmed from the cancellation of his recent CBS sitcom The Crazy Ones among other creative disappointments.
In addition, another source said Williams suffered from "survivor's guilt" after losing friends like Christopher Reeve, Andy Kaufman and John Belushi. (For the record, in his groundbreaking 2010 interview with Marc Maron, Williams said he admired Kaufman but only spoke to the comedian once when he wasn't in character.)
"He had it all, but he had nothing," Limbaugh opined. "He made everyone else laugh, but was miserable inside."
"It fits a certain picture, or a certain image that the left has," he continued. "Low expectations and general unhappiness and so forth." On the issue of "survivor's guilt," Limbaugh said, "That is a constant measurement that is made by political leftists in judging the country."
That's right, according to Limbaugh, depression and suicide are unique to the political left.
Listen to audio below, via The Rush Limbaugh Show:
[h/t MMfA]
[Photos via Wikimedia Commons/screengrab]
— —
>> Follow Matt Wilstein (@TheMattWilstein) on Twitter
Have a tip we should know? tips@mediaite.com