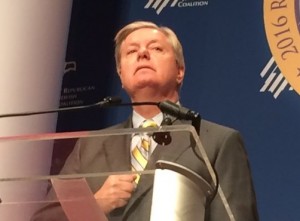 Republican presidential candidate Lindsey Graham's remarks to the Republican Jewish Coalition were trending Thursday morning. Why? Because the Republican senator from South Carolina went on a tear whose targets included fellow candidates, the Republican Party and the steps that led off stage.
According to Talking Points Memo, Graham opened by telling the crowd "why we lose" — the "we" meaning "Republicans." His major points of contention ranged from railing against "turning out evangelical Christians" instead of "turning out evangelical Christians," to arguing that "Donald Trump is destroying the Republican Party's chance at winning an election we cannot afford to lose."
Graham is currently polling at 1 percent, a fact he acknowledged repeatedly during his remarks. Yet the presidential candidate claimed he still has a shot in the election.
None of this really explains why Graham's speech started trending on Twitter. Twitter, however, offers plenty of evidence as to why this happened. Whether sarcastic or serious, the "reviews" were legion.
His jabs at the likes of the Republican Party, terrorists, Ted Cruz, and John Kerry were favorites among the press.
Though perhaps the best moment of the speech came when Graham took on his most immediate adversary, the stairs.
[Image via Twitter]
— —
>> Follow Andrew Husband (@AndrewHusband) on Twitter
Have a tip we should know? tips@mediaite.com