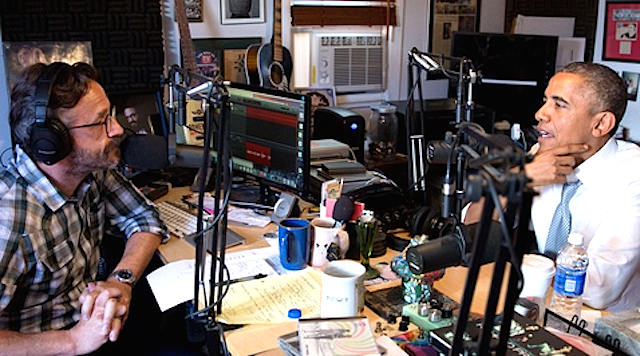 As comedian Marc Maron made clear from his tweets and Instagram photos on Friday, it really happened. President Barack Obama came to his garage in East LA and recorded a full-on episode of the WTF podcast. Now, thanks to The New York Times, we have our first excerpts from their conversation.
On his decision to appear on the podcast:
"I'm a big fan. I love conversations like this, because, if I thought to myself when I was in college that I'd be in a garage, a couple miles away from where I was living, doing an interview, as president, with a comedian, I think that's a pretty hard scenario — it's not possible to imagine."
On gun control in the aftermath of Charleston:
"Is there a way of accommodating that legitimate set of traditions [associated with gun ownership] with some common sense stuff that prevents a 21-year-old who is angry about something, or confused about something, or is racist, or is deranged from going into a gun store and suddenly is packing and can do enormous harm?

And that is not something that we have ever fully come to terms with. And unfortunately, the grip of the NRA on Congress is extremely strong. I don't foresee any legislative action being taken in this Congress and I don't foresee any real action being taken until the American public feels a sufficient sense of urgency and they say to themselves, 'this is not normal, this is something that we can change, and we're going to change it.' And if you don't have that kind of public and voter pressure then it's not going to change from the inside."
On his favorite comedians:
"I love comedy… [Richard] Pryor was an early one. Dick Gregory when he was really on the edge. But, you know, I love all — [Jerry] Seinfeld's a-whole-nother different type, Louis [C.K.] I know is a buddy of yours, I love. I think Louis' terrific… He's wonderful in such a self-deprecating, but edgy kind of way. And basically good-hearted even when he's saying stuff that's pretty wrong, you know? But there's a goodness about him that comes through."
"Oh boy, you just made his life," Maron told Obama of his old friend Louis. C.K.
Speaking to NY Times' Dave Itzkoff about the experience of interviewing the president, Maron said, "I feel good. We had a lot to cover. I had to honor what I do, and I had to respect what he does. He's the president, but I had to try to connect with him personally, in the way that I do with my interviews. I think all that happened." Following the events in Charleston, the host said he worried Obama would cancel at the last minute, but at a certain point "it became clear he was going to move on with his plans."
Asked how Obama ended up on his podcast, Maron said, "I never assumed I would talk to the president."
He continued:
"Over time, conversations started happening, with my producer [Brendan McDonald], from the White House, about general ideas. There were people on his staff who like my show, and somebody within his staff thought it would be a fun thing for him to do. But we never thought it would happen. Then over the last month or so, it became very clear that it might happen. I'm like, 'But where am I going to do it? Do I go to the Oval Office? Do I go to his hotel?' No, they wanted to come to the garage. Are you kidding me? Are you telling me the president's going to come to my house?"
But, in the end, he said it didn't seem that weird that Obama would want to appear on a comedy podcast:
"Over time, we all have to adjust to a changing media landscape. Some of it is noise and some of it is small, but there's a lot of it out there. There's a lot of surprising outlets by which people can communicate and people want to be part of. I've been doing this out of my garage for years, and I've had plenty of people come up here, at the end of the first year, saying, 'So this is where you do it?' Many times, I've walked people into my garage and said, 'This is the future of media.' And as years went by, fewer people were like, 'I can't believe this – where the hell am I?' They knew exactly where they were."
The full interview will be posted Monday morning on iTunes and wtfpod.com.
Listen to the excerpt below, via NY Times:
[Photo via Instagram]
— —
>> Follow Matt Wilstein (@TheMattWilstein) on Twitter
Have a tip we should know? tips@mediaite.com