Lockerbie Bomber May Live Another 10 Years, According To Doctor Who Said He'd Live Three Months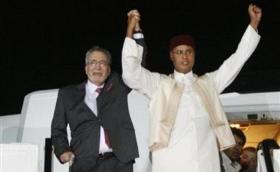 In what continues to be one of the more embarrassing failures in Scottish legal history, the Lockerbie bomber, Abdel Baset al-Megrahi, may live another decade.
This according to the same doctor who said al-Megrahi's cancer would cause him to live just three more months – a diagnosis that came before he was released.
The AP reports on the quote doctor Karol Sikora gave to the Sunday Times, saying, "It is embarrassing that he's gone on for so long," and signaling al-Megrahi may live another 10 years. Embarrassing diagnosis, that follows an embarrassing decision last summer by Scottish judge Kenny MacAskill on "compassionate grounds." Compassion for this terrorist who was found guilty of being responsible for the death of 270 people in the bombing of Pan Am Flight 103, including 180 Americans.
It was an outrageous turn of events at the time, and it started a few other storylines – including one about whether oil was a factor. Specifically, one particular British company that suddenly was allowed to drill off the coast of Libya for the first time in 30 years. That company? BP.
But all of that – the 'compassion' and oil connections and more – was made slightly better by the fact the doctor had said al-Megrahi would live just another three months. Well now it's been 11 months. And the doctor says it could be another nine years.
Will the American media pick up this story? It was a major focus during CNN and Fox News' news hours yesterday, and all three cablers on July 4. But that was a long holiday weekend. We'll see if it remains a major story as this week heats up – it should.
Here's one of FNC's reports yesterday:


—–
» Follow Steve Krakauer on Twitter
Have a tip we should know? [email protected]