No More Teachers, No More Books: Further Details On Glenn Beck's 'University'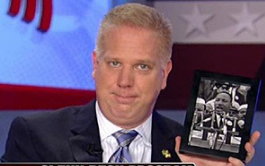 "Just because your kids have the summer off doesn't mean that it's not the perfect time for you to go back to school. That's right – there's still time to enroll in Beck University."
That is not an Onion headline, by the way. That is a quote from an email Glenn Beck sent out earlier this morning. In case you missed the news last week, Beck is starting his own online 'university' where one can "enjoy lessons in the three key areas of Faith, Hope and Charity with instructors hand-picked by Glenn."
The obvious jokes aside (and plenty of people have been making them) this news doesn't actually strike as too surprising considering Beck has made a concerted effort to teach (re-teach) his own version of American history on his show the last six months or so with, shall we say, varying degrees of success. What this online 'university' actually sounds like is a repackaging of a number of shows, and chalkboard moments, as well as an intentional rebranding of Beck's role in the media (or his dream role, anyway). Plus, it will probably equal a small bonanza for the authors who make up the reading curriculum. Funny that Oprah never thought to do something similar, though one supposes there is only so much Woodrow Wilson rage to go around. More details on Beck's 'university below.
Enjoy lessons in the three key areas of Faith, Hope and Charity with instructors hand-picked by Glenn. Renowned experts, David Barton, David Buckner and James Stoner will share with you their invaluable insight, all for just the price of a subscription to Insider Extreme.

Offered exclusively to Insider Extreme subscribers, Beck University is a unique academic experience bringing together experts in the fields of religion, American history and economics. Through captivating lectures and interactive online discussions, these experts will explore the concepts of Faith, Hope and Charity and show you how they influence America's past, her present and most importantly her future.

Plus, you'll get access to so much more with your Insider Extreme subscription:

* 6-camera broadcast quality video of the radio show,
* The 4th Hour program with Stu and Pat,
* Online access to Fusion Magazine content,
* Exclusive documentaries, and much more.
Have a tip we should know? tips@mediaite.com