Looks Like the Texas State Ag Commissioner Deleted a Tweet Calling Clinton the C-Word (UPDATED)
We already know from yesterday that Donald Trump is no stranger to just dropping the c-word like it's no big deal, so it shouldn't be that shocking that some of his most ardent supporters feel the same about the word.
Here is a screenshot of a tweet that appears to have been sent by the Texas State Agriculture Commissioner, Sid Miller:
Takes a lot of mental firepower to be the Texas Agriculture Commissioner pic.twitter.com/FO0rLsiNnp

— Christopher Hooks (@cd_hooks) November 1, 2016
Texas ag commissioner Sid Miller just called Hillary Clinton the c word. #txlege pic.twitter.com/zkxsEo5FeI

— Edgar Walters (@ewaltersTX) November 1, 2016
Though his page is not verified, his official website links back to that Twitter account.
The tweet — which celebrates one poll that has Trump beating Hillary Clinton in Pennsylvania — may be gone, but others from the account that are of interest live on:
Putin has great taste! pic.twitter.com/m91BjXoiaH

— Sid Miller (@MillerForTexas) November 1, 2016
Oh, and if you're wondering where you've heard his name before, it's because he made news last year for threatening to "slap" anyone who dared say "happy holidays" instead of "merry Christmas."
UPDATE — 5:04 p.m. EST:
The Texas Tribune is confirming that yes, this is his real Twitter account.
UPDATE — 5:11 p.m. EST:
Mark Loeffler, the communications director for Miller, told My San Antonio that the account had been hacked and they were "trying to get to the bottom of it."
He claimed every person with the password to that account was in the room with him when the tweet went out.
Miller, too, claimed that he had been hacked in a separate tweet. Mediaite's Josh Feldman uploaded it to the company group chat, but by the time this reporter clicked, it, too, had been deleted.
Here is a screengrab of the tweet, which automatically displayed in the Mediaite Slack channel:

Note: It was not a "re-tweet," as Miller characterized it. The tweet calling Clinton the c-word originated from Miller's account.
UPDATE — 5:20 p.m. EST:
Texas media continues to confirm that the accountin question belongs to the Agriculture Commissioner. Here is the latest from the Dallas News.
UPDATE — 5:34 p.m. EST:
STATEMENT from Texas Ag Commissioner @MillerforTexas's office about using the C-word to refer to @HillaryClinton in a Tweet this afteernoon. pic.twitter.com/83OmMsLzAz

— Jason Whitely (@JasonWhitely) November 1, 2016
Jason Whitely, Senior Reporter at WFAA-TV Channel 8 in Dallas, tweeted this statement that again classified the original tweet as a retweet.
UPDATE — 5:47 p.m. EST:
The mystery of the "retweet" has been solved. Apparently, whoever tweeted the original tweet copied and pasted it from this account:
PENNSYLVANIA: NEW AUTO ALLIANCE POLL

TRUMP 44
Cunt 43#UpLikeTrump

— Publius Gaius (@TheRickyVaughn) November 1, 2016
Note that the bottom of this tweet uses the hashtag #UpLikeTrump and the one that appeared on Miller's said "Go Trump Go." Obviously, someone altered parts of the copied and pasted tweet, but not others.
The @TheRickyVaughn account frequently swaps out Clinton's name for the c-word. Every reference to her appears to use the c-word, in fact. Notably, Miller's account follows @TheRickyVaughn.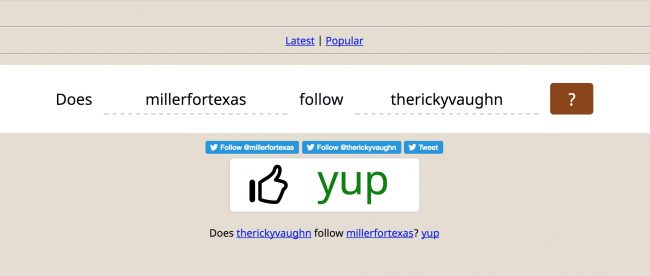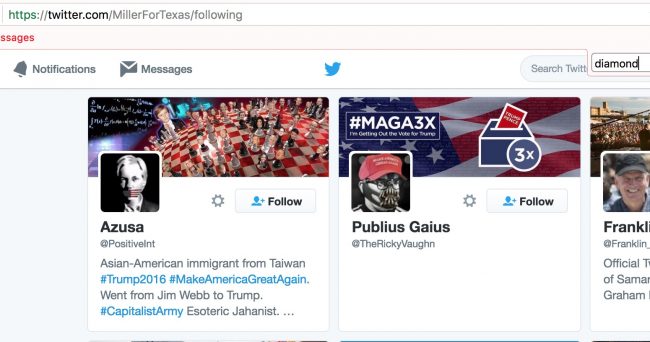 @TheRickyVaughn is lucky because Miller's account only follows 1214 people.
UPDATE — 6:12 p.m. EST:
The Texas Tribune is reporting that Governor Greg Abbott said the following about the tweet:
The language is reprehensible and is an embarrassment. No true Texas gentleman would ever talk this way.
UPDATE — 7:14 p.m. EST: Four days ago Miller criticized Clinton for needing people to review her tweets and bragged his words are his own.
[image: screengrab]
Have a tip we should know? [email protected]