Majority Of Americans Never Heard Or Cannot Identify Obama's 'The Private Sector Is Doing Fine' Remark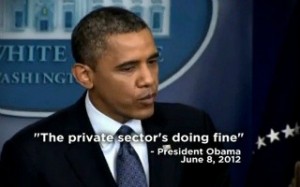 A new poll by YouGov showed that a 53 percent of American's are unaware of President Barack Obama's potentially damaging remark from earlier this month where he said local and state government's trimming their payrolls are to blame for the sluggish recovery and "the private sector is doing fine."

RELATED: Romney Releases Spanish Ad Featuring 'The Private Sector Is Doing Fine' Gaffe
While 53 percent were unaware of Obama's remark or misidentified what the President was referring to when he said it, 47 percent of respondents could correctly identify that "doing fine" was how President Obama described the private sector.
George Washington University Professor John Sides wrote in a blog post on Thursday that he did not believe most Americans were tuned into the election at this stage.
What this survey makes clear is that even after national headlines, some kinds of stories just don't register to busy Americans who have more things to do than follow every jot and tittle of the news. Which is one reason why the attention devoted to gaffes dwarfs their actual impact at the ballot box.
Conservative groups are actively preparing to make sure that American's are fully aware of Obama's comments by November.
The pro-Mitt Romney super PAC, Restore Our Future, is spending $7 million in eight battleground states to air an ad that prominently features the remark. Americans For Prosperity PAC is also purchasing $5.5 million in air time to run an ad showcasing Obama's gaffe.
Romney's official campaign has already featured the remark in a web ad as well as a Spanish language ad.
The chances are that the number who cannot correctly identify this statement will shrink in coming days. At least, those who remain unaware of the President's remark will be unlikely to reside in a state contested by either of the two presidential candidates.
h/t Politico
> >Follow Noah Rothman (@Noah_C_Rothman) on Twitter
Have a tip we should know? tips@mediaite.com