Man In Suit Enters Occupy Houston Park, Aims Rifle At Protesters, Shoots Gun In The Air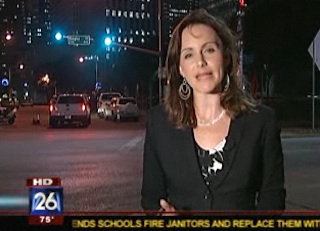 There was a scary moment in Texas yesterday evening as a crazed gunman entered the Occupy Houston camp and began threatening the protesters. The man, a 21-year-old described as wearing a black suit, entered carrying a rifle. He shot the gun into the air and then aimed it at some of the protesters. Police on hand warned him to drop the weapon and, when he did not and instead waved it in their direction, shot him at least twice. As of now, it appears as though these wounds are not life threatening.
What's interesting is that it seems as though the man, perhaps mentally ill, may not have been going after the protesters themselves. From the Houston Chronicle:
"Witnesses said though the gunman pointed his rifle at people gathered in the park, he did not appear to be targeting the Occupy movement because he walked right by the main encampment on his way to the bridge. Bullet casings and an ammunition clip left on the bridge remained surrounded by crime scene tape for hours.

Amy Tepper, 18, said the gunman pointed his weapon directly at her. She was among about a dozen people involved in Occupy Houston who were whisked away in police cruisers to HPD headquarters for questioning.

It startled me,' she said."
At one point, some witnesses say the man pointed his own gun at his head and, at another, yelled out "Kill me, kill me." This could imply that the situation was actually a suicide attempt. Other witnesses, though, believe the man was specifically attempting to scare protesters out of the park. What they can agree on, however, was that the man was not a part of the local Occupy group.
If there's any upside in what appears to be a very sad story, at least there's now one instance where police and Occupy protesters can agree that a proper amount of force was used.
Watch a news report on the story from Houston's Fox 26 below:
Have a tip we should know? tips@mediaite.com