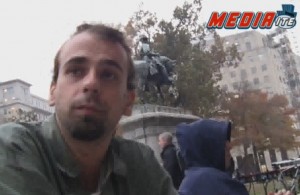 During my visit to Washington, DC's Occupy encampment in McPherson Square yesterday, I had the chance to interview Bryan Meister, a former Democratic campaign worker who is something of an unofficial spokesman for the Occupy DC camp, and I asked him about the incidences of Occupy protesters shouting down Fox News reporters. He defended the autonomy of individual protesters, but when pressed, allowed that "It does not help our image."
"I would certainly discuss, with somebody, the effectiveness of that tactic if I saw it being engaged in," he continued.
The reasoning behind such incidents, according to Meister, is that Fox News hasn't given the Occupy Movement a fair shake, and any interviews they participate in would likely be cut to make them look bad, or to omit key bits of context. The question, though, is whether avoiding that risk is worth the negative impression left by protesters simply shouting down members of the press, an activity that runs counter to the spirit of the First Amendment.
Asked which news outlets have given the protests a fair shake, Meister made an observation that's probably true in the larger discussion of so-called media bias. "I have learned, working with the media here, that the difference between reporters seems more significant than the difference between news outlets," he said.
"You'll see one news outlet where some of the reporters…want to come out with a supportive piece, some want to come out in opposition, and some just want to find the story…It's the reporters themselves who are actually determining the nature of the coverage."
Bryan also talked, briefly, about some of the celebrities who have lent their voices and faces to the Occupy Movement. "Celebrities who wanted to beef up their underground cred by comin' out here and making a big scene out of it, I think a lot of us feel that was pretty silly," he said.
Here's a clip of that portion of our interview, plus some bonus footage of "Occupy Humor," a brief, nominally successful exercise in Occupy joke-telling.

Have a tip we should know? tips@mediaite.com