Marco Rubio Now Straight-Up Speculating About Donald Trump Pissing His Pants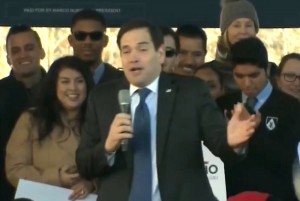 Republican presidential hopeful and master-debater Marco Rubio (R-FL) has been feeling his oats like an overfed Clydesdale today, after rattling off a string of attacks at frontrunner Donald Trump during Thursday night's Republican presidential debate. After trying out some material on talk shows Friday morning, Rubio took to the stage at a rally in Texas, and literally went right below Trump's belt with an anecdote about break-time at the debate:
He called me Mr. Meltdown. Let me tell you, during one of the breaks — two of the breaks — he went backstage. He was having a meltdown. First he had this little make-up thing, applying make-up around his mustache, because he had one of those sweat mustaches. Then he asked for a full-length mirror. I don't know why, because the podium goes up to here. Maybe he was making sure his pants weren't wet. I don't know.
Well, that escalated quickly. This is the guy who just got through saying that "I'm not in this race to attack any Republican," and in one day, he's accusing Trump of pissing his pants at the debate. If he keeps it up, by the end of the day he'll be like this:
Rubio's assault has clearly rattled Trump, but there's some risk for Rubio in taking these ostentatious windmill punches at Trump. The Donald is back on his heels, but Rubio risks alienating whatever supporters he manages to take away, as well as people who already don't like Trump or his insult comic act. We're also now seeing what happens when you push Trump, but we've never seen what happens to Trump when he's pushed too far.
This is an opinion piece. The views expressed in this article are those of just the author.