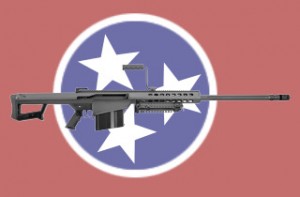 The official state bird of Tennessee is the mockingbird. The state reptile is the Eastern Box Turtle. The state fruit is the tomato. And the state rifle is one of the most destructive weapons currently available for civilian use, so powerful it can "penetrate light armor, down helicopters, destroy commercial aircraft, and blast through rail cars," according to a report from the Violence Policy Center (VPC).
The Barrett .50 caliber rifle was designed by its namesake, Ronnie Barrett, a Volunteer State native and NRA board member, out of a "passion for the ultimate firearm." This Wednesday it became the seventh firearm to be designated an "official state gun" since the practice began in 2011, according to the Washington Post.
The Post reported:
In supporting Tennessee's designation of the Barrett .50 caliber as the state's official rifle, Republican state senator Mae Beavers noted that the gun "honors Tennessee's ingenuity and manufacturing." But the gun's considerable firepower makes it a formidable threat in the hands of the wrong person.
The VPC report advised that long-range .50 caliber anti-armor sniper rifles of this nature were originally designed for military use, and presented an "imminent threat to national security" should they be used by terrorists. The report adds further that "officials responsible for national security have for two decades been so concerned about the easy availability of these rifles that they have advised taking special measures to protect high-profile targets from their devastating capabilities."
New Jersey Gov. Chris Christie in 2013 vetoed a ban on .50 caliber guns saying that it would "serve only to confuse law-abiding gun owners with the threat of imprisonment for lawful recreation."
Barrett himself once described the gun as a "toy," he said. "It's a high-end adult recreational toy."
According to Barrett's product description on his company's website: "Emergency iron sights provided. Nerves of steel are not."
[h/t Washington Post]
Have a tip we should know? tips@mediaite.com