Marco Rubio's New Tactic: Imply Immigration Bill's Opponents Want To 'Round Up' And Deport All Illegals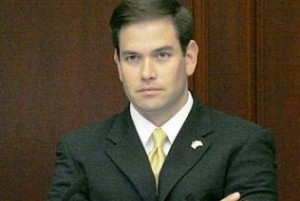 In debate classes or law school, it is often referred to as the 'arguing against the non-existing opponent' tactic. The way it works is you imply your opponent is making an outlandish, unsavory claim (though he isn't), hoping others will run with it or, at worst, that your opponent won't sufficiently correct it and the claim sticks.
To illustrate, imagine Sally is arguing in favor of marijuana's legalization against Tom. In the middle of the debate, Tom suddenly shrieks: "Well, Sally, you can talk about legalizing marijuana all you want but I just don't believe meth should be sold in schools!" The crowd erupts in applause, nodding furiously in agreement with Tom and giving Sally a disapproving 'shame on you' look, while Sally sits there thinking: "Wait, what just happened here? I never said meth should be sold in schools."
That tactic is precisely what Senator Marco Rubio seems to be employing in his latest efforts to push the Gang of 8 immigration bill. This weekend, as reported by Nevada journalist John Ralston, Senator Rubio was in Las Vegas to attend a Republican Jewish Colation meeting and also to attend a fundraiser at the Red Rock Resort, part of the Fertitta family's Station Casinos. Reports indicate he later met with casino tycoon, and major Republican donor, Sheldon Adelson. While in town, Rubio held a 30-minute news conference at The Venetian, to address the immigration bill.
According to Ralston, who attended the presser:
Rubio said he challenges opponents of the bill "to come up with an alternative. What's their alternative? To leave things the way that they are? To round up 11 million people and send them back to the country of their birth. Then they should propose that."
And there you have it: the argument against the non-existent opponent. Who among the immigration bill's opponents has called for the rounding up and deportation of 11 million illegals? No one. So why does Rubio smear opponents with this unfair and untruthful charge? Conveniently, and not surprisingly, Rubio seeks to frame the issue in "You're either with us or you're in favor of rounding up and deporting 11 million illegals" terms, when one knows the senator is surely smart enough to know that is not the case. The truth is, there are a myriad of alternatives to this bill that do not include deportation, for instance:
1) We could simply limit the legalization to the DREAMers;
2) We could have a bill that provides border security and border enforcement before legalization;
3) We could have a bill that does not provide legalization to those who have already been deported…
Those are just three alternatives to the bill, out of dozens, that do not even remotely resemble round ups and deportations.
One other interesting aspect of the press conference is this: Local "DREAMer" Astrid Silva was able to meet Rubio, reportedly running into him in a hallway, but, according to Ralston Reports, was asked to leave the press conference by Rubio's press secretary, Alex Conant. Guess the 'open' debate must be meticulously guarded? Not so 'open' after all? And on Thursday, Immigration and Customs Enforcement union chief, Chris Crane, was ejected from the Gang of 8's press conference. There seems to be a disturbing pattern, regardless of one's political views or views on the bill, to control what questions are asked at these press events.
Only a day prior to Crane's exclusion, Senator Rubio Tweeted this:

Senator, as we move forward on debating this bill, heeding your own advice — and not implying the bill's opponents callously wish to round up and deport all illegals — would be what is 'open' and honest.
—
[all bold emphasis is this column's author's]
[h/t to Ralston Reports]
Follow AJ Delgado on Twitter >>> @missADelgado
Have a tip we should know? tips@mediaite.com