McCain Assails Trump Over Putin 'Propaganda': Russian Pres Murdered 'People I Knew'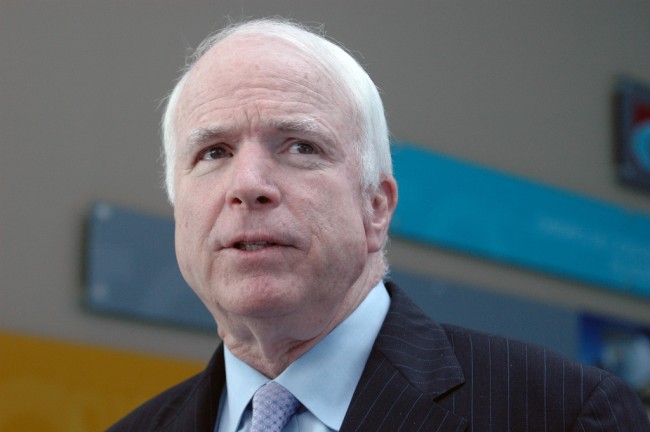 Sen. John McCain criticized Donald Trump Monday over the Republican frontrunner's praise of Vladimir Putin, blasting Trump for providing the Russian president with 'propaganda' material.
Putin offered Trump a glowing endorsement last Thursday, calling the business mogul the "absolute leader of the presidential race." In response, Trump called Putin's remarks "a great honor." Throughout the weekend, Trump continued to heap praise on Putin, even when confronted with reports that the Russian president kills reporters and dissenters in his country. On MSNBC's Morning Joe, Trump asked if anybody has ever "proved [Putin's] killed reporters?"
For McCain, Trump's admiration of Putin is "incomprehensible."
"The thing that is so concerning about Mr. Trump's compliments of Vladimir Putin is Vladimir Putin has slaughtered his own, murdered his own people, including people I knew," McCain said during an interview on Concord News Radio. "He has, his equipment has shot down an airliner and killed a couple hundred people."
"He's a bully and thug and to pay a compliment to this KGB apparatchik murderer is something that I just can't find in anyway plausible," McCain added.
"For him to provide propaganda, which is really what he just did for Vladimir Putin–who is a thug and a murderer–I think is really astonishing," McCain continued, insisting Trump's praise "shows either profound ignorance or an attitude that contradicts everything about the United States of America."
"Look, Vladimir Putin murdered his major adversary Boris Nemtsov in the shadow of the Kremlin. Murdered him. Which was clearly recorded on surveillance, but surveillance we'll never see," McCain concluded.
Listen to the audio above, via Concord News Radio. McCain's comments start around the 7:33 mark.
[h/t Buzzfeed]
—
>> Follow Elizabeth Preza on Twitter (@lizacisms)
Have a tip we should know? tips@mediaite.com