Media Reporter Gets Ratio'd Into Another Dimension For Bad Tweet About Alexandria Ocasio-Cortez (UPDATES)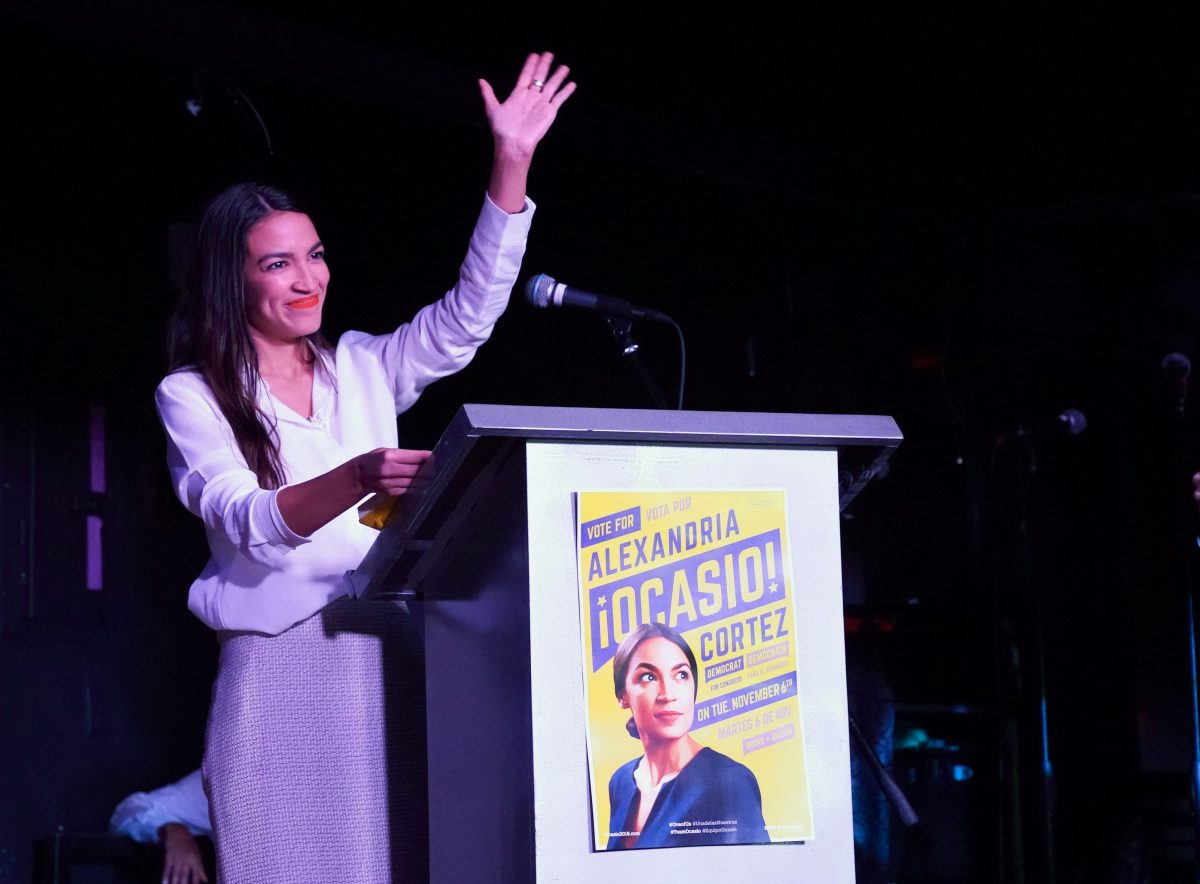 "The Ratio", Deadspin writer David Roth once explained, "is the triple crown of bad tweets." It's when a Twitter user posts something so garbage that the replies to their post outnumber its likes and retweets by a remarkable ratio.
Eddie Scarry, a media reporter for the conservative Washington Examiner, posted this tweet on what was otherwise a sleepy Thursday afternoon, and it is getting ratio'd into the stratosphere: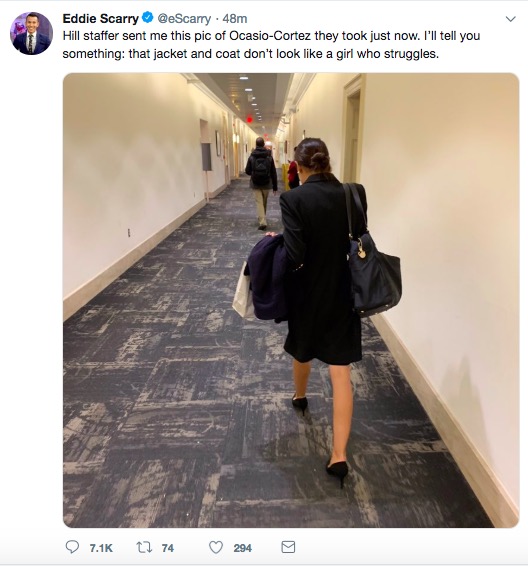 The tweet, ostensibly, takes aim at Alexandria Ocasio-Cortez's claims that she struggles to afford rent. Scarry, using a surreptitiously taken photo of the young congresswoman that was apparently sent to him, wrote in his tweet that her very normal jacket and coat are evidence she is dishonest about her financial situation.
The response was swift, and brutal. As of writing, Scarry's tweet has a ratio that might just be unprecedented on Twitter.com:

Scarry was defiant. But his second tweet explaining the first only kicked off a rare double ratio:
Seems to be a mistaken belief that I took this photo. Which is weird given that I said it was sent to me. https://t.co/zbpKMkMNry

— Eddie Scarry (@eScarry) November 15, 2018
Here's a sampling of the response his tweet is provoking, including everyone from MSNBC hosts to his fellow media reporters:
Never forget pic.twitter.com/9JB3VFPwTi

— The Baffler (@thebafflermag) November 15, 2018
Taking creepy photos of women without their consent and posting them online to own the libs

— David Klion (@DavidKlion) November 15, 2018
— a time to shrill (@theshrillest) November 15, 2018
NEW: My sources tell me Ocasio also purchased lunch from the cafeteria and didn't dig in a dumpster for scraps. Will update you all as the story develops.

— jordan (@JordanUhl) November 15, 2018
Holy shit! She's wearing clothes https://t.co/BFJu1F0iDO

— joe (@JoeTacopino) November 15, 2018
7K. Feels like this needs to go into the Twitter Hall of Ratios.

— Steven Dennis (@StevenTDennis) November 15, 2018
very curious how she speaks of struggling to afford an apartment in dc while also living rent-free in so many people's heads https://t.co/N8shpdRzqd

— Josh Billinson (@jbillinson) November 15, 2018
thoughts and prayers to your mentions https://t.co/qIFTkkDE4B

— Josh Marshall (@joshtpm) November 15, 2018
what the hell is wrong with you https://t.co/C956jmCz7Q

— maya kosoff (@mekosoff) November 15, 2018
have never seen anything like the ratio on that ed scarry tweet

— b-boy bouiebaisse (@jbouie) November 15, 2018
Is this what passes for reporting now?

In a recent interview she actually said she got a Rent the Runway subscription as a gift. (It retails for $139 a month.)

I look forward to your important journalistic updates on what the incoming male members are sporting. ? https://t.co/7tOpDugYHc

— Sara Murray (@SaraMurray) November 15, 2018
Among other things, he dismisses a 29-year-old member of Congress as "a girl" https://t.co/g3gIWiVa0d

— Astead (@AsteadWesley) November 15, 2018
Ocasio-Cortez claims to be middle class but she owns [squints] clotheshttps://t.co/c10OJ8ffSL

— Ken Klippenstein (@kenklippenstein) November 15, 2018
*faux British tea time voice* how DARE the working class procure clothing for the winter months, what is this, bolshevism?? https://t.co/fUrFJxJVIv

— Asawin Suebsaeng (@swin24) November 15, 2018
Would you call a male member of congress a boy? Would you post a creep shot of them only to insult their appearance? You should be ashamed of yourself. https://t.co/xLCNjkTWM6

— Liz Plank (@feministabulous) November 15, 2018
This woman claims she's a socialist, but she can afford two pieces of clothing. Hypocrisy much??? https://t.co/vUOueSkwzY

— Ben Collins (@oneunderscore__) November 15, 2018
Get a life dude.

— Jacob Soboroff (@jacobsoboroff) November 15, 2018
This is a bad tweet and you should feel bad for tweeting it

— Comfortably Smug (@ComfortablySmug) November 15, 2018
did you expect her to show up to work in a burlap sack or something?

— Andrew Kirell (@AndrewKirell) November 15, 2018
Hill staffer sent me this pic of Ocasio-Cortez they took just now. I'll tell you something: that jacket and coat don't look like a girl who struggles. pic.twitter.com/6j8i3pjlnM

— Gideon Resnick (@GideonResnick) November 15, 2018
If it continues, we may be looking at a record, and potentially a Delete Your Account Classic Moment.

— #ProfJeffJarviss2020 (@ProfJeffJarviss) November 15, 2018
Comments now exceeding the margin of difference separating Bill Nelson and Lex Luthor

— Jon Levine (@LevineJonathan) November 15, 2018
Couldn't get close enough for an upskirt?

— The Smoking Gun (@tsgnews) November 15, 2018
Things got so bad that Amazon shut down new reviews for Scarry's book, Fraud and Fiction.
haha pic.twitter.com/0V0eufo4Cb

— David Pontious (@DavidPontious) November 15, 2018
Meanwhile, Scarry is fiercely responding to critics on his Twitter page. Follow the madness here.
UPDATE: Ocasio-Cortez, naturally, has fired back:
If I walked into Congress wearing a sack, they would laugh & take a picture of my backside.

If I walk in with my best sale-rack clothes, they laugh & take a picture of my backside.

Dark hates light – that's why you tune it out.

Shine bright & keep it pushing.✨ https://t.co/mRq5wn0v9A

— Alexandria Ocasio-Cortez (@Ocasio2018) November 15, 2018
UPDATE: We are up at 19k replies people. This is a historic night.

UPDATE: Scarry has deleted the tweet. He explains:
ATTN! I posted a tweet earlier suggesting the incoming congresswoman looked well put together — ELEGANT even — despite suggestions she's struggled. The tweet was taken as something else, so I've deleted it!

— Eddie Scarry (@eScarry) November 16, 2018
Before deletion, the bad tweet managed to surpass 20k replies. Truly historic.
for posterity pic.twitter.com/TGNT0Kzw13

— Dave Itzkoff (@ditzkoff) November 16, 2018
[Photo by Don Emmert/AFP/Getty Images]
Have a tip we should know? tips@mediaite.com
Aidan McLaughlin - Editor in Chief