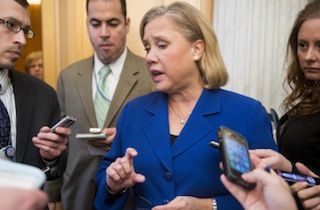 Every a.m., Mediaite publishes a primer of what the interweb machine is writing, talking, tweeting, and blogging about, so that you may fool friends and family into thinking you are a trove of information and insight. Today: congressional Democrats sweat out some ACA bills, how the media is framing the Obamacare enrollment numbers, and why a British thief took a selfie on his victim's cell phone.

Story of the Day: 'White House tries to calm Democrats growing panic over Obamacare' (Susan Ferrechio, Washington Examiner)
Democratic congressfolk up for reelection in 2014 are racing to see who can draft the reformiest bill to fix the "if you like your health plan" pledge. Mark Udall (D-CO) was only the latest to join the party, after Senator Mary Landrieu's (D-LA) bill received support yesterday from everyone from Senator Joe Manchin (D-WA) to Senator Dianne Feinstein (D-CA). The White House, of course, doesn't want any changes, or at least not changes that don't emanate from 1600 Pennsylvania Ave.—which may be coming as early as today. In the meantime, the Obama administration is trying to hold down defectors.
Counter: 'GOP's big Obamacare trap: Not as brilliant as they think!' (Brian Beutler, Salon)
These bills are joined by a Republican version introduced by Representative Fred Upton (R-MI). But what do they do, if anything? Salon's Brian Beutler plays them out, from Upton's purely symbolic allowance that people keep their cancelled plans (with which insurance companies are unlikely to comply, making the bill effectively meaningless and providing the ACA cover) to Landrieu's "decidedly unconservative" bill that further regulates the insurance market, putting the GOP in an awkward bind:
Would Senate Republicans kill the bill — and thus bail out vulnerable Democrats — on the principled grounds that they don't want to suffocate insurers with onerous mandates? Or would they set aside principle and assure its passage? Would the whole initiative get bogged down in a bicameral conference committee? Or would House Republicans fast track it, to isolate President Obama?

If he vetoed it, who in Congress would take the political hit to assure that a messaging vote strategy didn't spin out of control and create law by accident? If you're a Republican, do you really want to be the 67th (or 290th) vote to override that veto?
Read of the Morning: 'Locked in the Cabinet' (Glenn Thrush, Politico)
The inaugural issue of Politico Weekly arrives with a deep dive on the Obama administration's sidelining of cabinet members, a standard turf battle between high-profile cabinet figures and White House staff that Thrush said has been taken to an extreme in the current administration. The consequences? We're seeing 'em right now:
The decision to muzzle the Cabinet for all these years means the president now has fewer seasoned surrogates to make his case in public. Putting a premium on political savvy over creativity has made it harder to generate new proposals. Limiting the number of new voices in Obama's inner circle has given a cramped, predictable feeling to his White House and increased the pressure on a diminishing cast of indispensable staffers, who are now burning out and breaking down. Never have the strains been more apparent than during the troubled, ill-coordinated rollout of Obamacare this fall.
Best Blog Post: 'The Subtle Art of Framing' (Gin and Tacos)
Short, brutal paragraph about how media coverage of an event like enrollment numbers can hinge on a single word.
Crime Story of the Day: 'Burglar left 'creepy' selfie on victim's mobile phone' (Telegraph)
Almost stranger: he was stealing sweets the victim had stashed away while on a diet.
[Image via CQ/Roll Call]
——
>> Follow Evan McMurry (@evanmcmurry) on Twitter
Have a tip we should know? [email protected]