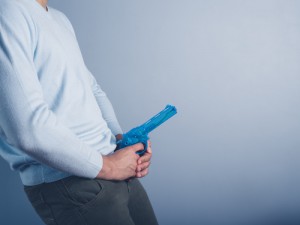 South Dakota's current claim to Internet fame is the story of a man who accidentally shot himself in the penis, then blamed the self-inflicted wound on "a black guy."
According to the Argus Leader, Donald Anthony Watson, a convicted felon no less, was admitted to a local emergency room at 1:30 a.m. on Sept. 6 for a gunshot wound to his crotch. When questioned by police, the man said that he was shot by "a black guy (who) tried to rob him."
Watson told the authorities that the late-night attempted robbery happened while he was taking the trash out, to the police went over to his apartment to check things out. They didn't find any evidence of a struggle outside of Watson's place, though a nearby witness mentioned hearing a man's screams of pain late that night.
Officers re-interviewed Watson after his surgery, at which point he fessed up to his lie and said that he'd been looking to purchase the weapon from a buyer. After inspecting the gun, he put it in his pants pocket, where it promptly discharged its contents into his crotch.
It sounds like his own piece was saved by a successful surgery. However, Watson's new piece is nowhere to be found, and since he refused to identify the buyer, the police charged him with false report of a crime to law enforcement, false report of information to law enforcement, possession of a firearm by a convicted felon and possession of a firearm by a drug offender.
[h/t Raw Story]
[Image via Shutterstock.com]
— —
>> Follow Andrew Husband (@AndrewHusband) on Twitter
Have a tip we should know? tips@mediaite.com