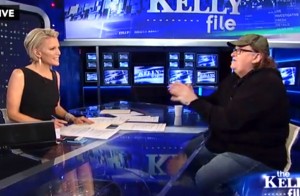 On her show Tuesday night, Megyn Kelly interviewed Oscar-winning lefty documentarian Michael Moore, but rather than promote his latest movie, the impish provocateur seemed to want to discuss nothing so much as her ongoing feud with Donald Trump, and what he characterized as the "crisis" she had created at Fox News.
"What does this feel like for you?" Moore asked right out of the gate. "'Cause you don't want to be the story. You're a journalist."
Tuesday's big news, of course, was that after assailing Kelly with criticisms of bias and receiving a series of smart-aleck statements from her network, Trump finally declared that he would not attend Thursday night's GOP debate, which Kelly is scheduled to co-moderate.
"What is he afraid of?" Moore asked. "I'm sitting here. I don't feel any fear."
To his credit, Moore seemed to understand that he was unlikely to inspire any of Kelly's viewers to see his new movie, Where to Invade Next: "Pluggin' a movie? No, that's not why I'm here! I'm on Fox News!" he joyously proclaimed.
Instead, he devoted a great deal of his time to needling Kelly for the role she inadvertently played in unraveling the media-political fabric of the nation. Moore told Kelly:
Michael Moore: You have done something that Jeb Bush, Chris Christie, Rubio, Cruz, none of them have been able to do, which is to essentially frighten him, make him run, shut him down.

Megyn Kelly: Would you move on from the Trump situation?

MM: Everyone has tried to do this for months — but you did it!

[…]

MM:To get elected president in this country, you have to come on this network. You have to play ball with this network. Donald Trump today said I'm not playing ball with this network. That's a historic moment! […] You've made this happen. You've caused a crisis upstairs.
Moore seemed sincere in his praise for the host, applauding her for asking the "great question" at the August Republican debate, regarding Trump's record of belittling women, which got this whole circus started. "God bless you, Megyn Kelly!" he concluded.
If Moore will not tout his own new release, then perhaps we will. Where to Invade Next will be in theaters Feb. 12. You can view the trailer below:
[image via screengrab]
——
Follow Sam Reisman on Twitter
Have a tip we should know? tips@mediaite.com