Milo Yiannopoulos: Twitter Waging 'Systemic Campaign' Against Conservative Viewpoints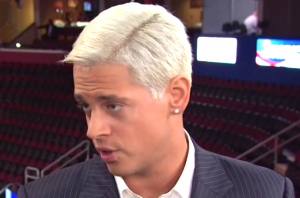 Breitbart writer and conservative provocateur Milo Yiannopoulos spoke out about the suspension of his Twitter account on CNBC Wednesday, calling out the company for its hypocritical stance on free speech.
"I've been pretty mean through the years on Twitter," he readily admitted. "But I don't think that's a reason to excise somebody from the platform. Actually, plenty of people enjoy what I do. Over 380,000 of them, as you say, enjoy what I do."
Yiannopoulos denied that he had ever racially or sexually harassed Ghostbusters actress Leslie Jones, and denounced some of the "completely disgusting" tweets that came from his fans. "What I did is dislike her movie, and after that teased her on Twitter," he said. "If a journalist can't tease a Hollywood blockbuster actress, I don't know what this platform is about."
"[Twitter CEO] Jack Dorsey says it's 'the free speech platform of the free speech wing of the free speech party….' that Twitter is a place you go if you want to express yourself. That's a lie. There is a systemic campaign against conservative and libertarian points of view on Twitter," he continued.
"Twitter is perfectly happy to host ISIS, to host death threats against Donald Trump supporters, and they do nothing in these cases," he said. "But you make a joke about a feminist, or you make a joke about a new Ghostbusters movie, or if you have the audacity to dislike the work in Hollywood of somebody who happens to be black or happens to be a woman, then you get suspended? That's absurd."
Watch above, via CNBC.
[Image via screengrab]
——
>>Follow Alex Griswold (@HashtagGriswold) on Twitter
Have a tip we should know? tips@mediaite.com