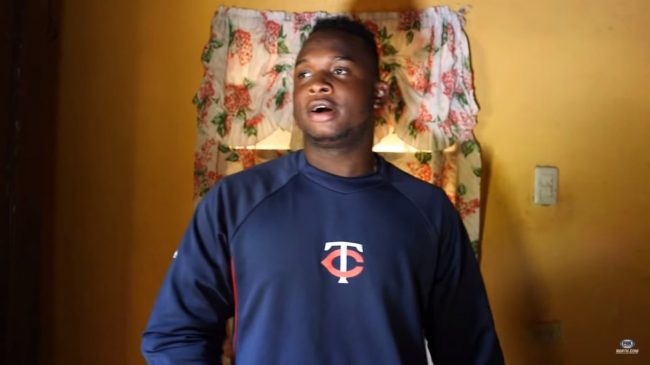 In recent weeks, women in sports journalism have come forward to tell their tales of sexual assault and harassment at the hands of their male counterparts. We've heard stories of inappropriate behavior allegedly conducted by prominent on-air personalities — many of whom are ex-athletes — at major outlets such as ESPN and the NFL Network. Now, a photojournalist is coming forward with a serious accusation against a still-active baseball star.
According to freelance photographer Betsy Bissen, Minnesota Twins slugger Miguel Sano assaulted her after an autograph signing at a store where she was volunteering. In a story posted to her Twitter account on Thursday morning, Betsy Bissen detailed her claim against Sano:
This is not easy for me to share, but I feel I need to share it. This is my story. #metoo pic.twitter.com/PM6g6YuABf

— Betsy (@BitzyBetsy) December 28, 2017
As she noted in her story, Bissen accuses Sano of trying to pull her into a bathroom and attempting to kiss her. The photographer says she fought off the All-Star third baseman as he pulled her by the wrist for ten minutes before Sano finally gave up.
"I don't even want to think of what he may have done, had he got me thru (sic) that door," she wrote. "No, he didn't rape me, but he sure did assault me."
Bissen added, "When I said no, it should have been the end of it. He should have respected that and stopped. Instead, he hurt me and kept going."
After sending the tweet, the photographer said she had been inundated with messages from social media trolls who doubted her story while noting that she had nothing to gain from telling it.
The trolls are out in full force on instgram. Most saying how he would never go for a girl like me when he can get models. How a 200lb man could pull my ass thru a door (I box, so I do have strength to fight back). Or that I want fame/money from this. Let me assure you, I don't.

— Betsy (@BitzyBetsy) December 28, 2017
I want nothing more than to feel free of this burden I've carried with me since 2015. I have NOTHING to gain from this. It's been hard enough for me to come forward knowing there would be backlash, but it was time.

— Betsy (@BitzyBetsy) December 28, 2017
This was a great FB message I got: "you are a stupid bitch! you got hit on by an athlete and you want to cry about it. cunt" Can't wait to report that one!

— Betsy (@BitzyBetsy) December 28, 2017
A friend of Bissen's backed up her story, stating that she had told friends and family after it occurred.
For anyone doubting her, she told me and other friends/family right after it happened. It was her story to share on her own timetable. Stop before questioning why she waited until now. There have been enough #metoo stories that illustrate why women wait to speak out. https://t.co/nCwWPEh8cT

— TCAnelle (@TCAnelle) December 28, 2017
Bissen also received a supportive tweet from former Twins player and current Tampa Bay Rays infielder Trevor Plouffe, who was with Minnesota in 2015.
I'm so sorry about this. I understand why you didn't, but I wish you would have come to me.

— Trevor Plouffe (@trevorplouffe) December 28, 2017
Sano has denied that he assaulted Bissen, telling TMZ that "it never happened." Meanwhile, the Twins have released the following statement:
Today the Minnesota Twins were made aware of allegations involving Miguel Sanó at an offsite appearance during the 2015 season.

The Twins, along with Major League Baseball, take these allegations very seriously. Until more information is gathered, the Twins will have no further comment.
[image via screengrab]
—
Follow Justin Baragona on Twitter: @justinbaragona
Have a tip we should know? tips@mediaite.com