Missouri Police Assn. Dubbed Anniversary of Michael Brown's Death 'Darren Wilson Day'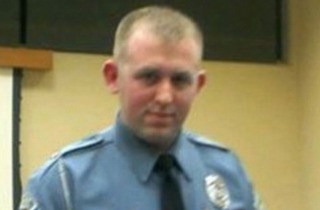 When one considers the renewed unrest due to the one year anniversary of Michael Brown's death, and the lukewarm reception of Darren Wilson's interview with The New Yorker, it might not be a good idea to give the former cop a local holiday.
Nonetheless, the Police Officers' Association of Columbia, Missouri decided to do just that, writing on Facebook that they were declaring yesterday as "Darren Wilson Day." The St. Louis Post-Dispatch reported that the post said that Brown's shooting had nothing to do with race, and that Wilson's persecution designated him as the victim in all of this.
Reports suggest that the post read that they stood behind Wilson on the grounds that "he was thoroughly investigated … and found he did NOTHING wrong." The post has since been taken down, but not before the police headquarters saw a gathering of protesters, which included city officials, outside their door.
Columbia mayor Robert McDavid responded with his disapproval on Facebook:
Today's Columbia MO Police Officers Association post is insensitive and divisive. Instead, our community and nation need to come together, communicate, and understand.
CPOA is a trade organization that is not accountable to the City of Columbia.
This is not the first time that CPOA has reflected poorly on the brave and dedicated men and women of the Columbia Police Department.
Others have taken to Twitter in order to voice their own displeasure with the post:
"Darren Wilson Day"? Are you fucking KIDDING me? Who the fuck thought that was a good idea?

— Salzikrum (@Salz1krum) August 10, 2015
Darren Wilson day is the most depressing thing I've ever heard of, It's actually worse than the white supremacists crowdfunding for him.

— Roll Deadlift (@R0mination) August 10, 2015
Christ, I was hoping Darren Wilson Day was a joke trend. Ugh @ this world.

— Ashley Steves (@NoThisIsAshley) August 10, 2015
No surprise that the same police union who wants 8/9 to be "Darren Wilson Day" also called Mike Brown's memorial "a pile of trash."

— #MIKEBROWNCOVERUP (@mikebrowncover) August 10, 2015
Darren Wilson day for all the racists out there still throwing a hissy fit a black man is president

— Jon Raffel (@442jon) August 10, 2015
Darren Wilson day is gonna go over great with the general public especially the black community- said no one fucking ever

— Vegeta Uchiha (@KingKevinM_) August 10, 2015
On Monday, the CPOA posted a new message, saying that their post was meant to express sympathy for Wilson's situation:
The CPOA's post on Sunday regarding Darren Wilson was interpreted in a manner that was not the intended message. In an effort to resolve the confusion, the CPOA wants to say this plainly: CPOA supports Officer Darren Wilson and all law enforcement officers who endure similar situations.
[h/t Talking Points Memo]
[image via screengrab]
Have a tip we should know? tips@mediaite.com