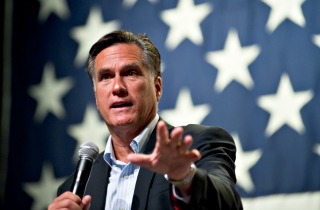 Former Massachusetts Gov. and 2012 Republican presidential nominee Mitt Romney acknowledged that the Affordable Care Act would not be the law of the land today if not for his healthcare plan.
The comments came in a Boston Globe obituary published on Friday for Staples founder Thomas Stemberg, who died at age 66 after a two-year battle with cancer. Stemberg, Romney said in the obituary, influenced him to focus on healthcare reform after he was elected governor in 2002.
"Without Tom pushing it, I don't think we would have had Romneycare," Romney was quoted as saying by the Globe. "Without Romneycare, I don't think we would have Obamacare. So, without Tom a lot of people wouldn't have health insurance."
Romney came under fire from conservatives during the 2012 presidential election for the healthcare program he established as governor, which President Barack Obama said paved the way for the Affordable Care Act — a law that Romney was actively campaigning against. Now, the former Massachusetts governor seems to be praising it for giving more Americans access to healthcare.
Stemberg opened the first Staples store in 1986 after receiving financial support from Bain Capital, the investment firm that Romney co-founded, and spoke in support of Romney at the 2012 Republican National Convention.
Later in the day, Romney sought to clarify his remarks, writing on Facebook that he still believes the Affordable Care Act is a failure:
"Getting people health insurance is a good thing, and that's what Tom Stemberg fought for. I oppose Obamacare and believe it has failed. It drove up premiums, took insurance away from people who were promised otherwise, and usurped state programs. As I said in the campaign, I'd repeal it and replace it with state-crafted plans."
[Image via Shutterstock]
— —
>>Follow Andrew Desiderio (@desiderioDC) on Twitter
Have a tip we should know? tips@mediaite.com