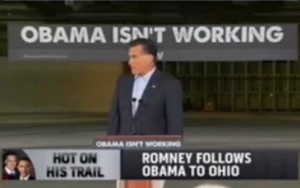 Presumptive Republican presidential nominee Mitt Romney rolled out a new accessory at a speech in Ohio today, delivering his remarks in front of a black banner that said "Obama Isn't Working," which is also the name of a website his campaign set up several months ago (in case you didn't get the message from the banner, it was also on the front of Romney's podium).
The slogan is a multiple entendre, but one of those entendres, intentionally or not, is evocative of a nasty racial stereotype about black men.
When I first saw the banner this afternoon, the multiple meanings were clear: President Obama's policies aren't working, the Obama presidency isn't working, President Obama…isn't working, as in, doing any work. That's not a nice thing to say about any president, but like it or not, it becomes a more loaded accusation when leveled at our first black president.
Just to be sure it wasn't just me, though, I asked several friends about the banner, and four out of four pointed out, unprompted, the stereotype of the "lazy," "shiftless" black man. One of the people I called was cable news fixture Goldie Taylor, who, upon hearing my description of the banner, said "Are you kidding me? You have got to be kidding me."
She also noted the multiple meanings, and the unmistakable stereotype it evokes, but didn't think it was intentional. "That's what happens when you don't surround yourself with a diverse array of people," she said. "Maybe if Mitt Romney's experience was more diverse, or the people he surrounds himself with, somebody would have looked at that banner and realized how it could be offensive to some people."
Like Goldie, I'm mostly inclined to give Romney the benefit of the doubt that this is merely insensitivity, and not a dog whistle to turn out the troglodyte vote. I say "mostly" because there have been some uncomfortable hints at a race-based shadow campaign recently, uncomfortable enough to keep one eye open. Mitt Romney has serious polling gaps with women and Hispanic voters that are going to be tough to close, so turning out the angry white male vote is a minimum requirement if he is to have any chance of beating Barack Obama.
I have also never seen a political candidate give a speech in front of a black campaign banner, or one that featured a direct slam on a rival candidate. Racial subtext aside, Romney ought to reconsider setting such an ugly precedent. He's already got the "anybody but Obama" vote locked up, and independent voters aren't likely to vote for the political equivalent of a can of Raid™. Running a negative campaign is one thing, but building a negative brand is deadly dumb.
Update: Several folks on Twitter pointed out that Romney's campaign website posted this elaborate explanation of the slogan in June of last year:
In 1978, Saatchi and Saatchi, then an up-and-coming advertising agency hired by the British Conservative Party and their campaign for Margaret Thatcher, created a historic political poster depicting the negative economic conditions and the government's failed attempts to correct that path. Labeled the poster of the century by the magazine Campaign, the image pointed to Britain's economic climate of rising unemployment, rising inflation, and a large and growing national debt. Those conditions and the public discontent throughout the country during that election and the parallels that Americans face today cannot be ignored. With unemployment rising from 3.6% in 1974 to 5.3% in 1979, the British knew there was a problem. Now, America faces 9.1% unemployment, record deficits, a soaring national debt, and millions of struggling families. One thing is clear – Obama isn't working, either.
That's pretty much in keeping with the third paragraph above. And the ones before it, and the ones after it. That's the point.
Have a tip we should know? tips@mediaite.com