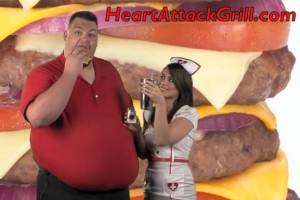 Heart Attack Grill is an Arizona based restaurant that flaunts the current trend of healthy eating by serving something called a "Quadruple Bypass Burger" and french fries proudly cooked in lard. Its whole reason for being (a part from making its patrons fat) appears to be the at-times dogmatic health-conscience media types, and as such the restaurant (and its owner) have been featured on numerous media outlets including Geraldo, Rush Limbaugh and Rachael Ray (to list just a few.) The Heart Attack Grill is mourning the death of Blair River, the 600-lb. spokesperson Blair River, who just passed away from pneumonia.
Writing for the Arizona Republic, Weldon B. Johnson reports:
River, who stood 6-foot-8 and weighed about 575 pounds, gained a measure of fame in the past year as spokesman for the Heart Attack Grill, a Chandler, Ariz., restaurant that specializes in thick hamburgers and fries. He died on Tuesday at the age of 29.

The cause of death is currently unknown, but friends are speculating that it was the result of his contracting pneumonia after a bout with the flu.

Heart Attack Grill is an unabashedly unhealthy restaurant — the menu consists of huge burgers, milkshakes and fries cooked in lard — and having such a big man as a spokesman was part of its tongue in cheek "glorification of obesity." But those who knew River said he was more than the larger-than-life caricature he portrayed in promoting the restaurant.
Heart Attack Grill's owner John Basso revealed that he hired River as spokesman because he was a patron of his restaurant, adding ""Cynical people might think this (River's death) is funny, but people who knew him are crying their eyes out. There is a lot of mourning going on around here. You couldn't have found a better person."
(H/T The Awl)
Have a tip we should know? tips@mediaite.com