MSNBC's Phil Griffin Blasted in New York Post Article: 'He's in a Lot of Trouble'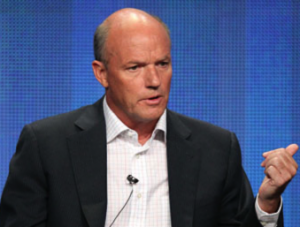 MSNBC's President Phil Griffin had to achieve the seemingly impossible this week: make the network's end of year ratings seem, well, not quite so bad. In a memo to staffers, Griffin admitted that 2014 was a "difficult year for the entire cable news industry and especially for MSNBC," but in a heroic spin effort, claimed they "are finishing the year in a much stronger position than many might have expected." That could be true. Griffin cited their growth amongst minority viewers, the power of msnbc.com and the fact that they still beat CNN in total viewers in primetime (even though they fell behind CNN in the demo).
But whatever one thinks about the year-end ratings that came out a couple of days ago, there is no question that Griffin and MSNBC have had a rough go. The real question now is can Griffin survive it? He has been at the helm of the network for over 8 years, which is an impressive feat for a non-Fox News cable exec. So will he now be held accountable for the ratings drop the same way he was celebrated when, for example, MSNBC first passed CNN?
Not surprisingly, the New York Post came prepared to weigh in on that burning navel-gazing question. Buried at the end of a story on MSNBC's ratings, the tabloid quotes an unnamed "cable veteran" saying, "Few have praised his ability to create strong shows for MSNBC," and that "given the fall in ratings, I think he's in a lot of trouble."
Quotes don't get a whole lot more anonymous than that. Cable news veteran? What the heck does that mean? But the problem for Griffin is it's hardly the first time the question has been asked and the more people who ask it, particularly in public, the more pressure Griffin will feel, legitimately or not. So we shall soon see if this "veteran" is some sort of cable clairvoyant or maybe just "retired" for a reason.
[Image via screengrab]
— —
Have a tip we should know? tips@mediaite.com