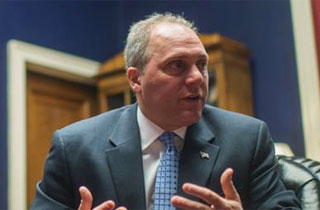 On Monday, Majority Whip Rep. Steve Scalise (R-LA) admitted that he'd spoken at a convention for white supremacists back in 2002. On Tuesday, the man who organized the convention said that he'd invited Scalise, who was his neighbor, to speak. And now on Wednesday, that man…said that Scalise probably didn't address the white supremacists at all. Okay.
Deep breath. Let's go through this.
Kenny Knight, a fairly prominent white supremacist in Louisiana and an associate of big deal neo-Nazi David Duke, organized the conference of the European-American Unity and Rights Organization in 2002. His interview yesterday with the Washington Post indicated that he happened to ask Scalise, then a state representative, to speak to the EURO conference, but added that Scalise probably thought he was addressing Knight's neighborhood civic association.
And now, according to Slate, Knight says the Post got it all wrong. In his (re)telling, he asked Scalise to actually speak to the neighborhood civic association, which happened to meet in the same hotel conference room as EURO did:
According to Knight, the EURO conference was slated to start in the early afternoon, roughly around 1 p.m. But his reservation at the hotel gave him access to the conference space for a few hours before the event's official kickoff. At the time, Knight headed the Jefferson Heights Civic Association, which was largely comprised of elderly people who lived in his and Scalise's neighborhood.

Knight said he set up a morning event for his own civic association in the hotel space before the EURO conference started. Though that event was in the conference's hospitality room, it wasn't at all related to the EURO event, he said.

"It was my room to do what I want with it," he said.

Knight invited then–state Rep. Scalise as well as a representative from the Jefferson Parish Sheriff's Office and a person from the American Red Cross to speak to the civic association at the hotel…

"I wanted to reach out to him and give him an audience so he could talk to people from his district about legislation he was proposing," Knight said. "I did that as a courtesy."
Kenny estimated that nearly a quarter of the people in the room were EURO attendees who wanted to kill time before the conference kicked off, explaining the posts supportive of Scalise that later appeared on neo-Nazi site Stormfront.org. "I don't think Steve was aware that there was a small contingent of people who came and sat in the audience prior to the EURO meeting," he said, adding that Scalise "probably would have left" if he was aware of any white supremacy.
The account was corroborated by Knight's ex-girlfriend, Barbara Noble, who said there was no "signage, banners, or mention of the EURO conference at the civic association event."
So if this account is true, it explains why Scalise said he wasn't aware that the crowd was full of neo-Nazis and white supremacists, though it doesn't explain why his advisor confirmed that he went to the EURO conference, nor why he decided to associate with Knight in the first place if he'd hoped to advance his political career.
Nevertheless, Knight and Noble's account makes it sound like this was all a big misunderstanding, like a Shakespeare farce with mistaken identities and swapped invitations, except with a lot more racial cleansing involved.
[Slate]
[Image via Rep. Steve Scalise/Facebook]
—
>> Follow Tina Nguyen (@Tina_Nguyen) on Twitter
Have a tip we should know? tips@mediaite.com