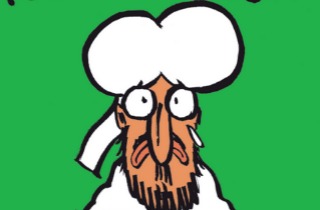 At least two prominent Muslim organizations have issued calls for peace and calm in response to the new edition of French satirical magazine Charlie Hebdo, which features a caricature of Muhammed on its cover.
The new issue is the first since the attack on the magazine's office last week that left a dozen dead. The magazine had been the target of terrorist attacks before due its portrayal of Muhammed, which Islam forbids.
The Muslim Council of Britain issued a statement signed by 53 Muslims leaders criticizing the magazine's cover but calling for a peaceful reaction to its publication. (The MBC has long worked with the British government in the aftermath of radical violence.)
RELATED: Which Networks Are Showing the New Charlie Hebdo Cover?
"Most Muslims will inevitably be hurt, offended and upset by the republication of the cartoons," the Council wrote. "But our reaction must be a reflection of the teachings of the gentle and merciful character of the Prophet (peace be upon him). Enduring patience, tolerance, gentleness and mercy as was the character of our beloved Prophet (peace and Blessings be upon him) is the best and immediate way to respond."
Likewise the Council for American-Islamic Relations decried to cover but maintained the ability to do so peacefully and respectfully.
"Just as Charlie Hebdo has the right to publish, we have the right to peacefully challenge negative portrayals of our religious figures," CAIR's director said in a statement. "The answer to speech one disagrees with should not be violence, but should instead be more speech promoting tolerance and mutual understanding."
At least three million copies of the new issue are expected to be printed.
[Image via screengrab]
——
>> Follow Evan McMurry (@evanmcmurry) on Twitter
Have a tip we should know? tips@mediaite.com