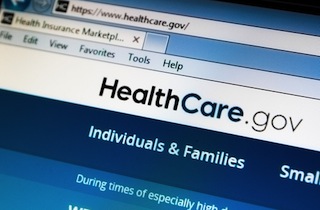 Every a.m., Mediaite publishes a primer of what the interweb machine is writing, talking, tweeting, and blogging about, so that you may fool friends and family into thinking you are a trove of information and insight. Today: the emergence of the positive Obamacare story; the law makes slow but steady gains among the public, even in Republican districts; how the GOP's Obamacare obsession could cost them in 2016; and more.

"Once Opposed to ACA, Now a Convert" (Robert Calandra, Philadelphia Inquirer)
The Obamacare Horror Story, once the stuff of Democratic nightmares, has been fact-checked out of existence, while the law's implementation has yielded roundly positive numbers. All of which has left observers wondering when we were going to start hearing positive Obamacare stories — namely, instances of people who needed but couldn't afford insurance suddenly having access to a life-saving procedure.
The Philadelphia Inquirer has just such a story, as it narrates the tale of Dean Angstadt, a self-employed logger who needed valve replacement surgery but kept delaying it due to the cost. Agnstadt refused to enroll through the exchange, as he opposed the law, until a friend wore him down. Then:
Leinhauser went to Angstadt's house, and in less than an hour, the duo had done the application. A day later, Angstadt signed up for the Highmark Blue Cross silver PPO plan and paid his first monthly premium: $26.11.

"All of a sudden, I'm getting notification from Highmark, and I got my card, and it was actually all legitimate," he said. "I could have done backflips if I was in better shape."

Angstadt's plan kicked in on March 1. It was just in time. Surgery couldn't be put off any longer. On March 31, Angstadt had life-saving valve-replacement surgery.

"I probably would have ended up falling over dead" without the surgery, Angstadt said. "Not only did it save my life, it's going to give me a better quality of life."

Angstadt faces a long recovery, but his conversion to ACA supporter is done. The political storm around the ACA, he said, is the political parties "fighting each other over things that can benefit people."
The more of those that emerge, the more difficulty the GOP is going to have selling its repeal message, which may be why some in the party are backing away from it.
"Obamacare's Poll Numbers Improve In Republican Districts" (Sam Stein, Huffington Post)
Sam Stein got an early look at Democratic polling firm's numbers on Obamacare, and reports that they've modestly improved since December, with a six point swing in favor of the law, even in GOP districts. Granted, Obamacare's numbers in December were about as low as they've ever been, but this still shows that the law's successes appear to be registering — which could, at the very least, neutralize the issue for Democratic incumbents running for vulnerable seats.
All normal polling caveats apply.
"Do Republicans Benefit from Obamacare in 2014? Maybe, But it Isn't Likely to Help Them in 2016" (Jaime Fuller, Washington Post)
The GOP's all-Obamacare strategy might help them in 2014 (though, more likely, the GOP's structural advantages will play a dominant role in their victories), but it could cost them in 2016:
Republicans' built-in advantage in 2014 means that they have a little leeway to expand their platform in anticipation of the 2016 presidential election — something a few potential 2016 Republican candidates, like Kentucky Sen. Rand Paul, mention trying all the time — letting new voters sample what they could offer, experiment with their image and see what works and doesn't on a smaller stage. Instead, they went narrow, picking the one strategy that was most likely to appeal to the people they already won over to the exclusion of everyone else. Republicans may have a more favorable view of Republicans than the country writ large, but that won't win them the White House in an election where young, minority and low-income voters return.
Longread of the Day: "Paul Ryan's Inner City Education" (McKay Coppins, BuzzFeed)
A great piece from McKay Coppins on Paul Ryan's poverty tour, a fascinating blend of awkwardness, obliviousness, Midwestern sincerity, and political opportunism:
Ryan is doing something rather unprecedented for a Republican: He is spending unchoreographed time with actual poor people. He is exposing himself to the complexities of low-income life that don't fit in the 30-second spot, the outlay spreadsheet, or the stump speech applause line. He is traveling well outside his comfort zone — and it has been uncomfortable.
[Image via txking / Shutterstock.com]
——
>> Follow Evan McMurry (@evanmcmurry) on Twitter
Have a tip we should know? tips@mediaite.com