Nancy Pelosi Would Like To 'Retire Right Now,' According To Her Daughter, Alexandra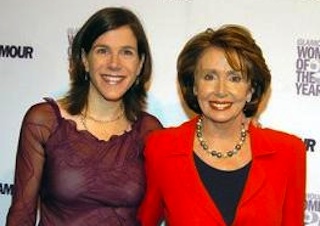 The folks from Big Government scored a phone interview with Alexandra Pelosi, the documentarian daughter of Nancy Pelosi, and she told the site that her mother wanted to be done with her position as House Minority Leader. According to the younger Pelosi, at this point, the job is just an "obligation."
From Big Government:
"She would retire right now, if the donors she has didn't want her to stay so badly. They know she wants to leave, though. They think she's destined for the wilderness. She has very few days left. She's 71, she wants to have a life, she's done. It's obligation, that's all I'm saying."
Of course, this isn't the same thing as hearing it from Nancy herself but it holds some weight. I mean, daughters know about these things, right?
The Big Government interview also included some disses of Anderson Cooper and 60 Minutes whom Alexandra Pelosi believes has edited and aired her mother's comments out of context in the past. Read these quotes from Pelosi here.
Have a tip we should know? [email protected]