NARAL President Stepping Down, Citing Lacking Millennial Involvement In Pro-Choice Movement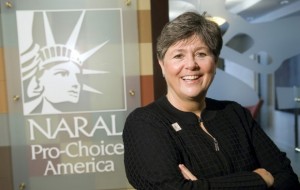 Nancy Keenan, president of NARAL Pro-Choice America, is officially stepping down. The Washington Post reported Keegan cited concerns about an "intensity gap" between the pro- and anti-abortion rights movements, and asserted that the pro-choice movement needs more young people in leadership roles.
Via the Washington Post:
In recent years, Keenan has worried about an "intensity gap" on abortion rights among millennials, which the group considers to be the generation of Americans born between 1980 and 1991. While most young, antiabortion voters see abortion as a crucial political issue, NARAL's own internal research does not find similar passion among abortion-rights supporters. If the pro-choice movement is to successfully defend abortion rights, Keenan contends, it needs more young people in leadership roles, including hers.

"There's an opportunity for a new and younger leader," Keenan said during a Wednesday interview in her downtown Washington office. "Roe v. Wade is 40 in January. It's time for a new leader to come in and, basically, be the person for for the next 40 years of protecting reproductive choice."
NARAL has been in an effort to engage millennials in abortion rights, but Keenan said that while people give a lot of "lip service," we "can't just assume it will happen on its own." Rather than responding to the challenge by doubling down on her efforts, Keenan is making way for younger leaders to step in.
Keenan herself has held this position for eight years. During that time, "NARAL has lobbied Congress on 55 abortion-related votes and worked on over 4,000 pieces of state legislation. She describes herself as part of a 'postmenopausal militia,' the baby-boomer activists who, as college students in the 1970s, fought for abortion rights."
Amid the debate about health care reform, the White House turned to Keenan for advice. "She is someone who can disagree with us and be honest about it," said Jim Messina, who was deputy chief of staff in the White House. "I consulted with her frequently when I was at the White House. She would always tell you the truth…She was very loud and willing to use the 'f' word. That's why I like her."
Keenan and NARAL have faced their fair share of challenges, and among them is the previously mentioned "intensity gap," which has subsequently led to NARAL's initiatives aimed at the younger generation — an effort that will go on when Keenan is no longer with the organization.
Those on the other side of the abortion rights debate haven't been entirely convinced getting support from millennials is simply a matter of advocacy strategy.
"This is not about tactics or strategy," said Marjorie Dannenfelser, president of the anti-abortion group Susan B. Anthony List. "This is about the youth trending pro-life, or ambivalent."
Among these "tactics," is the campaign NARAL is currently testing, which will mark the 40-year anniversary of Roe v. Wade.
(H/T Washington Post)
Have a tip we should know? tips@mediaite.com