NATO, Brexit, BMW: Here Are the Most Revealing Parts of Trump's Interview With Two European Newspapers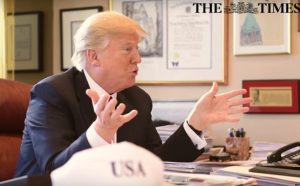 Germany's Bild and the Times of London published an in-depth and wide-ranging exclusive interview with the American President-elect Donald Trump, where the soon-to-be Commander in Chief gave his most recent thoughts on US-Europe relations. While 45 used the interview at Trump Tower to repeat many of his criticisms and talking points from the campaign trail, the interview also shed some light on his potential approach to foreign policy that would break with decades of American status quo. Here's a look at the most revealing part of Trump's sit down with the Bild and the Times from Sunday.
"Bing, Bing, Bing"
During the interview published Sunday, the President-elect revealed that he has no plans to retire his @realDonaldTrump Twitter handle which currently touts the better part of 20 millions followers. Despite the fact that the @POTUS account has been handled by President Obama and his team, Trump sees no purpose in switching over now.
To phrase his digital success in the social media forum, Trump used the moniker "bing, bing, bing" to describe how easy it was to send out his messaging directly.
I've got 46 million people right now — that's a lot, that's really a lot — but 46 million — including Facebook, Twitter and ya know, Instagram, so when you think that you're 46 million there, I'd rather just let that build up and just keep it @realDonaldTrump, it's working — and the tweeting, I thought I'd do less of it, but I'm covered so dishonestly by the press — so dishonestly — that I can put out Twitter — and it's not 140, it's now 280 — I can go bing bing bing… and they put it on and as soon as I tweet it out — this morning on television, Fox — 'Donald Trump, we have breaking news'.
It would seem Trump loves watching the reactions of his Tweets on cable news, but that shouldn't come as much of a surprise.
NATO: The Obsolete Group
Trump repeated his long-standing approach to NATO, calling the 28-nation alliance "obsolete."
"I said a long time ago that NATO had problems," he told the European reporters Sunday. "Number one it was obsolete, because it was designed many, many years ago. Number two the countries weren't paying what they're supposed to be paying," he said of our global partners.
And to this point, the financials would indicate that Trump is mostly correct; one of the core tenets of NATO membership is that each nation pay 2% of its GDP on its own military spending, in an effort to curtail using pooled NATO resources. As Trump has correctly pointed out, only five countries pay this figure (the United States, Greece, Great Britain, Estonia, and Poland), meaning the other 23 fall short in its commitment. Trump has lambasted the faction as a whole, identifying that the U.S. should not be required to pay more than the other partners.
"Some Good Deals With Russia"
Donald Trump repeated praise for the Kremlin during the interview, noting that while previous sanctions were the approach of the Obama administration, he would look to negotiate with Russia directly.
"For one thing, I think nuclear weapons should be way down and reduced very substantially, that's part of it," he was reported as saying.
Before the most recent spat of sanctions imposed by the Obama administration for Russia's role in interfering with the general election, there were three previous rounds of sanctions; all three came in 2014 in direct response to Russia's aggravated military presence in the Ukraine.
"More Countries Will Leave"
There's no secret that Trump has long been a champion for the United Kingdom to leave the European Union, as he praised the referendum vote last summer and aligned his political interests with UKIP leader Nigel Farange. On Sunday he repeated his praise of the so-called Brexit vote, indicating that he thought other countries would follow suit.
"If you ask me, more countries will leave," he said, going further to note that he plans to formally meet with British Prime Minister Theresa May in the first few weeks of his Presidency. He spoke about a potential exclusive trade deal with Britain now that they have cut themselves off from the result of the European Union; last summer, he called the referendum vote to leave "a great thing."
"We're gonna work very hard to get [the trade deal] done quickly and done properly. Good for both sides," he said this weekend. "We'll have a meeting right after I get into the White House and it'll be, I think we're gonna get something done very quickly."
That 35% Figure
Trump has long touted that he would impose a 35% tariff of sorts on manufacturers who create goods and services outside of the country and attempt to sell those products domestically. He continued with this economic logic on Sunday, now targeting German auto-maker BMW in the process.
He urged BMW to fully scrap plans to build three Sedan manufacturing plans in Mexico, which are scheduled to open in 2019 a few hours north of Mexico City. Instead, urged the President-elect, BMW should manufacture those cars in the U.S. and save on the threatened tariff.
Anti-Merkel
Unsurprisingly, Trump also used the opportunity to slam the open-border policy of German Chancellor Angela Merkel. Not one to mince words, Trump said defiantly to Bild that Merkel's approach to immigration and refugees was a "catastrophic mistake." He added that although he has respect for Merkel, he admitted he does not know her personally, and that is was not a good thing to let "all these illegals" into the country.
—
J.D. Durkin (@jivedurkey) is an editorial producer and columnist at Mediaite.
Have a tip we should know? tips@mediaite.com